Monday, September 3, 2007
Like many college grads, Jim Weatherly chose to delay his entry to that cold ol' money-grubbing world.
After earning a photography degree from Southwest Missouri State University, he signed on with AmeriCorps.
"I felt like maybe the corporate America, maybe the arts-related field, wasn't exactly where I wanted to go," he says. "I knew that I sort of wanted to do something to give back. So non-profit was something to just dabble in, basically, with AmeriCorps."
Three years he put in with AmeriCorps in St. Louis, first working with middle school students in the inner city and then shipping out to the hurricane-ravaged Gulf Coast, where he helped in governors' offices, cleaned up flooded houses, etc.
"Literally left the day after Katrina hit," he says.
After a third year of hanging on as an AmeriCorps staff fellow in St. Louis (you can only serve as a regular member for two years), he had to face that old decision again-to serve humanity or to sell out. By virtue of this article, you can probably guess what happened: Humanity won.
Weatherly, 28, started working last month as the education and outreach coordinator for Douglas County AIDS Project. It's not a glorious job, perhaps, driving to a no-frills office in the basement of a former nursing home at 2518 Ridge Court, traveling around town to give STD presentations and making sure condom bowls are filled in local businesses.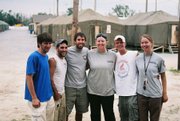 He's still learning the ropes-you've got a lot to learn about STDs when you're supposed to teach about them. This month, for instance, he's going to Kansas City for Hepatitis C training.
But already he's got plans. He says he wants to double the 20 or so condom bowl sites around town. He wants to add some multimedia stuff to the presentations he inherited from his predecessors. He wants to talk to more groups in Franklin and Jefferson counties and find more creative projects for volunteers.
"I'm looking just to go anywhere and everywhere that will have me," he says, "and do as much as possible."
Volunteer
Douglas County AIDS Project (DCAP) Volunteer Orientation
5-7 p.m., Sept. 13
2518 Ridge Court, room A
New volunteers encouraged to call or email ahead of time: 843-0040 or dcapedu@sunflower.comhref="mailtodcape...>
Weatherly got into volunteer work as a kid growing up in Nevada, Mo., when he'd go visit the nursing home where his grandmother worked after school. What started as playing checkers with the old folks turned into larger projects when he went off to college. He joined Alpha Phi Omega, a national service fraternity, and became student body vice president.
Not everyone goes from doing this stuff as a volunteer to making it a career-and not everyone has to. Weatherly says it's simply the hand he was dealt.
"I know myself well enough to know that I can't do something professionally that isn't gonna affect my personally," he says. "...I'm glad that I figured that out at an early age."