Sing along with Sarah Buxton and your shower will resonate with stories of cranky relatives, careless ex-boyfriends, shopping binges, wannabe cowboys and strong-willed women.
It's the kind of slice-of-life stuff that composes the fiber of country music, and it's the reason the raspy voiced 27-year-old songwriter has a dream deal with Lyric Street Records (Rascal Flatts, SheDaisy, Bucky Covington) and a Top Five hit with Keith Urban's version of her song "Stupid Boy," which just earned a CMA nomination for song of the year.
The Lawrence High School grad will enjoy a homecoming of sorts on Sept. 6 at Abe and Jake's-her first local show since moving to Nashville over nine years ago. Like any respectable pop diva, Buxton keeps it real for her hometown: her song "Back Home" describes her experiences watching Jayhawk basketball, and she prominently sports a KU shirt on her MySpace banner (despite actually attending Belmont University in Nashville).
Buxton's recent five-song digital EP "Almost My Record" made a strong debut on iTunes last month, which she hopes foreshadows a long-delayed full-length debut next year. Listen to those tracks and the audio version of the interview below...
Podcast episode
Sing along with Sarah Buxton and your shower will resonate with stories of cranky relatives, careless ex-boyfriends, shopping binges, wannabe cowboys and strong-willed women. It's the kind of slice-of-life stuff that composes the fiber of country music, and it's the reason the raspy voiced 27-year-old songwriter has a dream deal ...
No-fi highlights from the podcast
lawrence.com: What are your plans for playing in Lawrence?
I just want to give everyone in Lawrence a sense of what I've been running around doing for the last few years.
The last nine some years?
Exactly. Well, that would include some other types of songs, but I can show them what I'm doing now. It's going to be really great. It'll be like a homecoming.
How big is your band?
There are two guitar players, bass, drums and keys-a good group of guys, I love 'em.
Do you sing primarily or do you play some guitar onstage?
I sing. No, I do not play onstage. Eww. That would be horrible. That would be really bad.
What instruments do you play?
I mean, I guess I play guitar, but I hold it in such high regard that I say I don't play guitar. I piss myself off when I play guitar; I just make myself mad that it doesn't sound the way I want it to.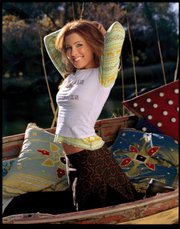 What's the story behind your song 'Stupid Boy' (turned into a Top 5 hit by Keith Urban)?
If I were a bell this last year, and you were to ring me, that would have been the song that came out. The thing about 'Stupid Boy' that's different from my other songs is that it's had some success. I'd be lying if I said that doesn't change your view of the song. Obviously if Keith had put it out and it just didn't do anything and never got out of the Top 30, then I would have been like 'Oh god.' But it spoke to so many people that you're really proud of it because it turns into something bigger than you, you know?
It was originally written from a very female perspective, wasn't it?
Yes, it was. Although when he told me that he wanted to cut it, it didn't seem weird : I totally didn't even think twice about it, but it was definitely a female song. Keith Urban puts so much passion into his music that I thought, 'He's going to hit it out of the park.' I sing songs that are guy songs that have lyrics about girls : I'd rather just sing the song and not change the lyrics around to make it work for a girl. A song's a song, you know?
How do you make ends meet?
I'm making all of my money right now off of my publishing deal. Those people believe in me as a writer and they think of situations for me to be in that would be good for my creativity and they hook me up with different creative people : All the people that I work with now I've met because of that one relationship with my publisher. I wouldn't have any of this stuff going if it wasn't for my writing. I don't want to sit in a room with a 50-year-old man and have him have to make every line his when I'm going, 'Dude, you don't know anything about this.'
Album Mp3s

Sarah Buxton (Advance album)
Does that happen? You're collaborating with people who are basically twice your age?
Oh yeah. I write with people of all ages. Some of the guys that are that age are actually great writers, like Craig Wiseman and Bob Dipiero. These guys have had millions of number one hits. It's not luck. They're able to get outside of their own reality and write about someone else's life. It's pretty crazy.
What are you listening to these days?
There aren't that many country songwriters nowadays that I really listen to. I'm trying to compete with them, so I don't listen to their music because I don't want to sound like them.
How often do you pop on modern country radio and what are your impressions?
Definitely Keith Urban is the coolest. Nowadays I turn it on and it's more like listening to people I know. I know Toby Keith is a badass, just as a person. So when I hear his music, I sing along to his songs, but I'm more inspired by his story of how he made it : We're going to have dinner tonight actually with Jay DeMarcus of Rascal Flatts. He's a good friend of mine and I love the Flatts. Little Big Town-that's an act I like. They're damn good.
So you're all buddy buddy with the famous country rock stars?
Yeah, it's a community.
Past Event
Thursday, September 6, 2007, 7:30 p.m.
Abe & Jake's Landing, 8 E. Sixth, Lawrence
All ages / $25 - $100
Really though? Even at the top of the pile, people are still pretty friendly?
There isn't really a top of the pile anymore. I mean, I guess there is-there's Kenny Chesney, there's Rascal Flatts, and I guess no, they don't hang out with us anymore-but when you're around them, most of them : I mean I can honestly say there's been two or three people that have been really bitchy to me, who will go unnamed. There's no need for it.
In my mind, in a dream world, I want everybody to be friends and hang out and make music together. That's part of the thing that turns me off the most about lots of modern-day music-contemporary pop, rock and country. It's so segregated. It's not our fault-it's radio and Clear Channel and Citadel buying out all the radio stations and making it so freaking competitive that you have to define yourself so much and you have to guard your territory. It's just ridiculous.
It seems like to succeed as a female country singer you have to carve out some kind of identity.
Yeah, you gotta have like a little banner that you put by your name. It's so stupid, and I totally hate that. I just think it's ridiculous : But media is changing so much with the internet that anybody who's anybody can put out a record. In order to really sell your stuff-that's why they're doing that. Hopefully it will all settle out and it won't be that way for much longer.
When you get to the level you're at-where you have producers and publishers around you-is there pressure to do a certain song or act a certain way?
Oh yeah, hardcore. But it's totally in your mind. The reason why they're working with me in the first place is just because I am me : I don't ever want to be the 'Redneck Woman' like Gretchen Wilson. She's so much more than just that one song, yet she did that song so well that that's all people want to hear from her now. It's just a horrible place to be in as an artist; I never want to be in that spot.