Monday, September 3, 2007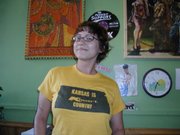 Kate Furst
27, vintage clothier, DJ, bistro hostess
How do you save money?
"I live and work downtown. I don't have a car, cable or internet. That saves me a lot of money every month. I only buy used clothing-don't support the man. Let's say I buy four dresses a month. If I buy new dresses in a store they're $70 a piece. If I buy them at Wild Man Vintage or A.T.C, they cost $10."
How much does that save a month?
"Clothing alone saves me about $240."
What do you splurge on?
"Eating out for every meal and booze. I can be kind of over the top with my downtown lifestyle because I don't have a car, internet or cable."
How much does that cost?
"Everything I may have saved on clothes, a car, cable and internet."