Monday, September 3, 2007
Photo Gallery
Style Scout: Rachael Shea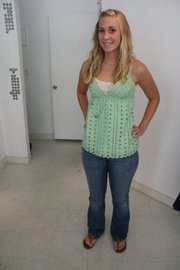 Rachael Shea
Hometown: Leawood
Age: 20
Time in Lawrence: 2 years
Occupation and/or major: Finance Major
What were you doing when scouted?
I was about to start working at Epic Apparel, a designer fashion-forward boutique downtown. It's a unique store for Lawrence because we carry things a lot of stores don't carry.
Favorite clothing store?
Epic, of course. (Laughs.) I came here a lot before I worked here.
How often do you go shopping each month?
Too much! I shop probably once a week. I don't always buy something, but I look in stores pretty often. I spend probably $100-150 per month.
Tattoos? Piercings?
Bellybutton and ears. I've had them forever. My ears have been pierced since I was 5 and bellybutton since freshman year in high school 'cause that's what everyone did, but now I don't care much.
How would you describe your style?
Pretty laid back. I like to do a lot with accessories. I don't like to dress up with heels and everything, but I like to wear unique pieces.
What does your style tell strangers about you?
I feel like I dress nice, but I'm not stuck-up or anything. I know some people who dress nice can be pretty intimidating, but I think I'm pretty approachable.
How early do you get up? How much time do you spend getting ready?
45 minutes-hour. This morning I was up at 7 a.m. for class, but on the weekends I get up around 10 or 11.
Favorite trend for this season? Least favorite?
I think the high-waisted trouser look is going to be great for jeans. It'll be flattering. My least favorite is Ugg boots worn with a jean skirt because Ugg boots are winter boots with fur lining and jean skirts are for summer, so why would you wear them together?
Where do you get your hair cut, and why do you go there?
I get my hair cut at a little salon in Overland Park called Island Tan and Spa. Billy cuts my hair. He's the only stylist there. He does an awesome job on my hair. My hair is thick and wavy, which is hard to work with, but Billy does a good job and he's not very expensive.
Is there anything you'd like to see more of in Lawrence? Less of?
I think Lawrence has a lot of everything that's good, but I'd like to see less homeless people. There's just so many of them, so it's sad to see.
Tell us a secret.
I didn't shower today!