Monday, September 3, 2007
Photo Gallery
Style Scout: Wiley Lewis Shearhart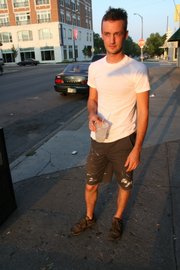 Wiley Lewis Shearhart
Hometown: McPherson
Age: 22
Time in Lawrence: 3 years
Occupation and/or major: Server / Sociology
What were you doing when scouted?
I just woke up from a nap (note: it's 7 p.m.). I needed to get some coffee and hit the books. I'll probably try to go score some food from one of my many friends who work in the downtown area.
Favorite clothing store?
The Social Service League because it's cheap and they have a good variety. I always shop in small town thrift stores. Or dumpsters; thrift store dumpsters are always good. Other stores? Love Garden and Hole in the Wall Flea Market in Topeka.
How often do you go shopping each month?
For what? Clothing, I buy by necessity and also by cheapness. So, I guess I'm always on the lookout for a cheap shirt that fits or a pair of shorts in the dumpster. I usually don't go out with the intention of "shopping."
Tattoos? Piercings?
I have a key and a book on my wrists from Big Daddy's. To be a smart-ass I always tell people I got them so that I don't forget my keys and don't forget to do my homework. But, the truth is that I'm a latch-key kid and the book is an open book, an unfinished story. It represents things in process.
How would you describe your style?
Utilitarian. T-shirt, jeans, shorts, cheap. I guess I don't want to put that much time or money into something that doesn't matter in the long run.
What does your style tell strangers about you?
(Long pause.) I don't know, I think I have a style that blends into any situation and I think my personality is the same way.
How early do you get up? How much time do you spend getting ready?
I try to get up at least two or three hours before I have to do anything to give myself enough coffee time and time awake to feel refreshed before I have to study or move around too much.
Favorite trend for this season?
I guess the past couple summers, I finally found shorts. I'm pretty stoked about it. It's a pretty basic thing, but I just now found it. I don't know how I survived all those summers just wearing jeans. Oh and I have to add: bike rides and drinking by the river: in shorts. Least favorite trend right now? Now, this one I know specifically: air conditioning. It messes with my allergies and it just seems like an excessive waste of resources.
Where do you get your hair cut?
I usually do it myself. I just don't see it as that important to spend money on.
Favorite coffee shop in Lawrence, and why do you go there?
Henry's by default, I guess. I live down the street and work right around the corner. This is where most of my friends come to get coffee and I know quite a few of the baristas. It's a good place to come to see what people are doing.
Favorite bar in Lawrence, and why do you go there?
I'm actually getting kinda sick of the bars. Maybe that's just what happens when you turn 22, but I do end up at the Replay quite often for basically the same reasons I end up at Henry's.
Is there anything you'd like to see more of in Lawrence?
I'd like to see more DIY events of all sorts. I really enjoyed the Avant-Garden art show. I really liked the East Side art show when that happened. I'd like to see that again. Less of? I just feel that everyday Lawrence becomes more and more an adjunct suburb of Johnson County and Topeka, which I can see possibly stifling the creative energy that Lawrence has always been known to have.
Tell us a secret.
Oh boy, I don't know if that one should be known! (Laughs.) But what the heck: I lost my virginity while watching Wayne's World. I think that's about the best secret I've got. Schwing.