Monday, September 10, 2007
Podcast episode
On this somber memorial of September 11th, we must never forget...the stuff that happened last week. That's why Actual News is here! Osama, Mangino, Pavarotti, Popcorn Lung and much more in this super sized bonus edition of the Punditocracy news-pod.
NEWS OF THE BEARD
Osama bin Laden released a new video online last week, the first communication from the Al Qaeda leader in nearly three years and seemingly in conjunction with the sixth anniversary of the September 11 terrorist attacks. In the tape, bin Laden appears fit and his beard has been noticeably dyed black. He gives a rambling speech in which, among other things, he implores America to convert to Islam, references linguist-philosopher Noam Chomsky, and makes mention of the housing market crisis in the United States.*:The embarrassingly incoherent speech has led CIA analysts to suspect it's the handiwork of bin Laden's new communications director, Miss Teen South Carolina.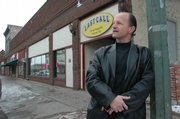 ABARTHEID
Lawrence city commissioners last week began a process to officially request the state of Kansas revoke the liquor license of downtown bar and club Last Call. Mayor Sue Hack sent a letter to the Alcoholic Beverage Control unit asking for a hearing to deny Last Call a renewal of its license. City leaders contend that Last Call has become a safety liability, pointing to numerous incidents of gun-related crimes both in and around the establishment. Bar owner Dennis Steffes has vowed to fight the city and claims to be the target of retribution for his opposition to the Lawrence smoking ban, also asserting that the effort to close Last Call has "racial overtones."*:Commissioners denied singling out Last Call because it is a predominantly African American nightclub, insisting that some of their best friends are predominantly African American nightclubs.
CURSING A CRIMSON & BLUE STREAK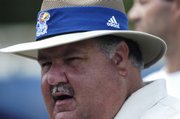 KU football coach Mark Mangino achieved internet celebrity status last week after a video of him berating a player with an obscenity-laden tirade became a hit on YouTube. During the season opening blowout against Central Michigan-which KU won 52-7- Jayhawk receiver Raimond Pendleton completed a touchdown-scoring punt return by diving into the end zone. The showboating move elicited a 15-yard penalty, and Mangino proceeded to berate Pendleton with such foul-mouthed force that Mangino somehow managed to bloody his own face.*:With his quick temper, questionable heart health, and propensity to say "f*ck" in public, Mangino is now a front runner for vice president of the United States.
DAWN OF THE FRED
"Law & Order" actor and former Tennessee Senator Fred Thompson officially announced his candidacy for the Republican presidential nomination last week. Even though Thompson has just entered the race, he already ranks second in most national polls of Republican voters, trailing former New York City mayor Rudy Giuliani. Pundits attribute his early support to dissatisfaction with the existing Republican field, but point to Thompson's poor fundraising numbers and early staff turmoil as signs of his own weakness as a candidate.*:Thompson, star of not just "Law & Order" but also of films such as "Die Hard 2" and "The Hunt For Red October," is hoping to peel away the crucial "Fictional Machismo" voting bloc. Thompson has a lot of ground to make up in early primary states, however, as he's losing in the polls to both Jack Bauer and a half-empty tube of Ronald Reagan's hair gel.
DON'T BE HATIN'
Gov. Kathleen Sebelius recently signed an executive order aimed at protecting state employees from workplace discrimination based on sexual orientation and gender identity. The order affects about 25,000 state employees, making it illegal to discriminate against those workers on the basis of whether they are gay, lesbian, bisexual or transgendered. Legislation to extend anti-discrimination protections in private employment and housing is before a state Senate committee, which Sebelius has said she would sign into law.*:"This is a slippery moral slope," said one opponent to the measure. "I mean, what's next? Giving Chinamen the vote? A Catholic president? A female governor?!?! Wait-what?"
I CAN'T BELIEVE IT'S ROT BUTTER!
A Denver man is believed to have the first diagnosed case of a degenerative lung disorder caused by the fumes emitted from making microwave popcorn in his home, doctors announced last week. Bronchiolitis obliterans-also known as "popcorn lung"-has been linked to diacetyl, a chemical additive used to make artificial butter flavor in microwave popcorn. The chronic and potentially fatal disorder had to this point only been seen in popcorn plant workers, but Wayne Watson ate two bags of microwave popcorn every night for a decade and medical researchers found levels of diacetyl in his home similar to those of a factory. Diacetyl is an FDA-approved additive, but ConAgra-the largest manufacturer of microwave popcorn in the United States-will begin phasing out the chemical over the next year.*:The FDA defended its decision to keep diacetyl on the market, arguing it's vital to narrow the consumer-killing deficit between the United States and China. Said one patriotic FDA official, "Keep American-poisoning jobs in America!"
CASE #: OMGWTFLOL
Laura West, a 21-year-old woman who was arrested near Lawrence for numerous traffic violations over the summer, had her hearing in Douglas County Court recently. West and her partner, J.M. Sovereign: Godsent, claimed that her arrest was unconstitutional because they were in a "vessel" and not a "vehicle" and that she was on a religious mission. The couple believes the U.S. is not a country but a foreign corporation that has invaded America. They're concerned about implanted identification chips and say sovereign Americans are being forced to choose between God's law and man's law. Godsent said the trooper who pulled them over was presented with a card labeled "Sovereign Civilian Police Observation Task Force" after he stopped them. Godsent said that in accepting the card, the trooper was accepting a contract to pay a $15,000 gold fee for each question he asked. Godsent said they will take the matter to court seeking payment. Judge Robert Fairchild will rule on the case in October. *...By reading this segment, you've agreed to pay Lawrence.com a $15,000 gold fee.
THE FAT LADY SINGS
Famed Italian tenor Luciano Pavarotti passed away last week at the age of 71. The legendary vocalist had been battling cancer for more than a year. Pavarotti was the world's best-selling classical artist, with more than 100 million records sold since the '60s, including recent pop hits with The Three Tenors. Thousands attended his service near Modena, Italy and Pope Benedict XVI sent a eulogy saying Pavarotti had "honored the divine gift of music through his extraordinary interpretative talent."*:Local officials, concerned that the beached opera singer would begin to putrefy, immediately regretted attempting to move his carcass with dynamite.
CRASH MONEY MILLIONAIRE
Wealthy adventurer Steve Fossett went missing last week, never arriving at his destination after piloting a private plane from an airstrip near Reno, Nevada. The 63-year-old veteran of numerous record-breaking solo airplane and balloon flights failed to file a flight-plan for what was supposed to be a routine three-hour flight to California, and the electronic tracking device in Fossett's plane meant to go off in case of a crash landing has not been activated. Rescuers have been scouring 10,000 square miles of terrain, focusing on the harsh Nevada desert nearest the airstrip where Fossett took off, but have no promising leads.*:By focusing their search on Nevada, rescue workers conveniently don't have to travel very far to place bets on finding Fossett dead or alive.