Monday, September 10, 2007
Like furtive spiders, charities are hiding in every corner-among houses in seemingly ordinary neighborhoods, in back rooms of buildings, under your bed, everywhere. This is what Maggie Bixler says.
She is in on the secret because she has volunteered with about 80 non-profits in Lawrence in the past year. She is like a super-volunteer, sort of. So if you need anybody who needs a hand:
"If they're homeless and they need food or if they need shelter or if they need some pregnancy counseling or if they need to take an AIDS test or if they need tutoring for their kids, if they need to learn English, I can tell them where to go," she says.
Here's how she got like this:
Bixler graduated from KU in 2006 with degrees in environmental studies and anthropology. Wanting to change the world, etc., she left immediately for the Pacific Northwest, where she lived in the woods with a chainsaw in her hand building trails and clearing underbrush with the Northwest Youth Corps.
For four months she lived in the forests of Oregon, Washington and Idaho, eating peanut butter and jelly sandwiches and not showering, hiking for 11 miles at a time with 70 pounds on her back and groups of teenagers in her charge.
After four months the AmeriCorps volunteer gig ended and she returned to Lawrence, her long, slender body so strong she says her old clothes didn't fit. "I was wanting to arm wrestle everybody," she says. "Show off my guns."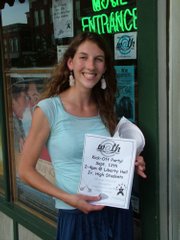 While in the Northwest-the longest stretch in her life she'd been away from friends and family-she'd decided she wanted to get involved in Lawrence.
"Being a college student and having the college experience," she says, "I wanted to have the real Lawrence citizen experience-not the transient."
After a month of relaxing, she applied for Kansas StreamLink, but the environmental non-profit wasn't hiring so the folks there recommended the Roger Hill Volunteer Center. She applied and got a job, again as an AmeriCorps volunteer.
People call her asking what agency to volunteer for. Agencies call needing people. She hooks them up.
"The way that I did that successfully-and a main component of my job-is to do direct service myself," she says.
And that's how Bixler became the person who knows everything there is to know about volunteering in Lawrence.
Meanwhile, she's worked on special projects, like organizing an Arbor Day event in which people planted a bunch of trees at Pat Dawson Billings Nature Area near 27th and Crossgate and starting an interpreters database for non-English speakers.
Volunteer
Interested in proving to yourself that you're not a total narcissist? Hundreds of ready-made volunteering opportunities await at lawrence.com/volunteer/
"It's been inspiring," she says. "It's nice to know that there are so many people out there that care."
This month her AmeriCorps commitment to Roger Hill ends. And in January she's touring the world for six months with her boyfriend (you can buy this thing called a "round-world" ticket from a travel agency, she explains).
And she just began working part-time as a staff member for GaDuGi SafeCenter coordinating the Wednesdays at Liberty Hall after-school program. It was one of the many programs she'd been volunteering with.