Monday, September 10, 2007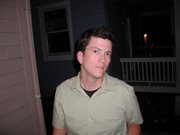 Jonathan Jay Holley
architectural designer, Johnny America Zine-ster, cigarette pack and Christmas light assembler
How do you save money?
"I steal toilet paper, pens, sugar packets and paper towels from work. I also steal McDonald's ketchup, mustard-when they have it-and half-and-half.I'll get sodas from Bucky's during their happy hours. I believe it' s from 4-5 p.m., although I think it's actually called 'Pepsi Hour.' The drinks are severely discounted. I'm also a fan of the $1.29 bacon cheeseburger from Wendy's. You can save a lot of money off of the .99 cent value menu. If you want a real healthy meal off of the .99 cent menu, you can get chili and a baked potato with chives and sour cream. It's like $2.08 and you got a meal. I do not support Taco John's Taco Tuesdays because of that monkey in their advertisements. I also save money because Hastings has free coffee. You can go in there and read their magazines and drink coffee. The only problem with that is they often don't have sweetener or cream-luckily, I've stolen some from McDonald's."
How much does that save you a month?
"Anywhere from $4 to $11. Let's be realistic."
What do you splurge that on?
"From time to time I play craps, with the expectation of turning that into thousands of dollars. Luxury items would be Italian shoes and small, high-priced electronic devices. I recently bought a Bang and Olufsen answering machine and a 1930's art-deco telephone-you might consider that a luxury item, but I consider it a necessity. It'll last forever."