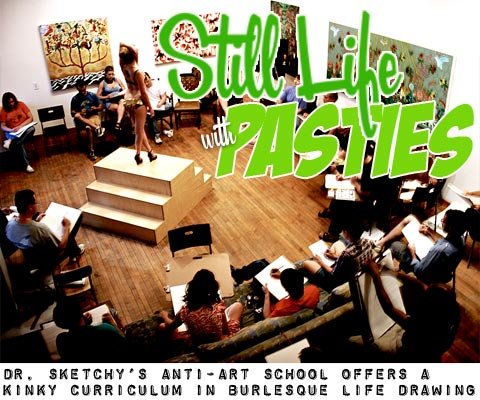 Monday, September 10, 2007
Think that the fine art world is stuffy, elitist and not nearly nude enough? Then Dr. Sketchy has just the prescription for you. Begun in Brooklyn by pin-up artist Molly Crabapple in 2005, Dr. Sketchy's Anti-Art School is a saucy cocktail of booze, bosoms and brush-strokes that's spread like a French social disease across the globe. This burlesque life drawing phenomenon has chapters in Tokyo, London and Sydney, and it's now set up salon in Kansas City. San Francisco transplant Laurenn McCubbin, a pin-up peer to Molly Crabapple, brought the titillating tradition with her earlier this year and is now gearing up for the 5th Dr. Sketchy's KCMO. Laurenn McCubbin joined us to help flesh out this fleshy outing.
lawrence.com: How would you describe Dr. Sketchy's to the uninitiated?
McCubbin: Dr. Sketchy's is life drawing with a twist. It's not your boring old life drawing session with not-terribly-attractive, older male models who may or may not be flipping a chubby while you're drawing them. It's a night of really hot burlesque girls, roller derby girls-just really, really interesting models with interesting costumes. To make it even more fun we throw in drinking, a DJ and awesome contests with fabulous prizes. Also, you get a little burlesque show, because all of our models do a number. I'm an artist known for my pin-ups and my illustrations of really sexy girls. I'm always looking for new opportunities to draw really sexy girls, and Dr. Sketchy's has proved to be a boon for that.
Are all of the models female, or will you also have beefcake?
We will definitely be adding beefcake to the menu in the near future. As soon as it cools down a little bit, we also want to add drag queens to the mix. There is nothing more fabulous than a drag queen in costume-we've just got to make sure they don't melt. There's nothing sadder than a melted drag queen.
What's the gender ratio in your audiences? Is it a good mix of male and female sketchers, or is it a bit of a "pencil fest"?
We actually get quite a few women. Everyone always thinks, "Oh, there's going to be hot girls, so it's going to just be dudes." Actually, we get a lot of very talented female artists who come in and do really great sketches. We do have a healthy chunk of dudes, though.
Can people with sub-Pictionary drawing skills still attend, even if all they can draw is a stick figure with pasties?
Of course! You can hella-draw a stick figure with pasties on it and still have a really good time. We do a lot of stuff to keep our non-drawing people entertained.
Do you ever get creepy people who show up and just breathe heavily in the shadows or get confused and belligerent when they don't see a pole on stage?
No, everyone has been very respectful of the models. They're there because they want to have a good time and not because they want to be a skeeze. Our models are very important to us, and we want to make sure they are comfortable no matter what, so we would not let that happen.
Have you or Dr. Sketchy's ever been accused of objectifying women?
No. I mean, there's always going to be people who hate on you if you do something successful. We're very lucky in that we haven't drawn that kind of ire yet.
How would you respond to that kind of feminist critique?
Oh, that is so first wave feminism. We are really much more about third wave feminism. These are not women who are doing this because they feel the need for attention, or think this is the only way they can get men to pay attention to them. That's ridiculous. They're doing this because it makes them feel sexy and awesome. Everybody in their heart of hearts loves to dress up in costumes and show off and be pretty and have fun. Third wave feminism is about a woman owning her sexuality. It's not saying, "Oh, if I'm sexual I'm just doing what men want me to do." No! I do things because I find them sexy. Hey, if a dude thinks that's sexy too, awesome-he can come along for the ride.
Past Event
Sunday, September 16, 2007, 6 p.m. to 10 p.m.
West Bottoms, Kansas City, KS
21+ / $5
What do you think explains the recent boomlet in burlesque?
I think it's a reaction to the overproduced, porny images you see. It's not about being glossy and perfect, and it's also not about exposing your hoo-ha in front of God and everybody. It's more about the tease-it's more about a kinder, gentler erotica. Burlesque has really put the "fun" back in "fetish."
Do you yourself model?
I have modeled, but not at Dr. Sketchy's because I'm trying to run the show. It's way more fun for me to be a goofball, and so it's hard for me to go from goofball to "Hey, look at me! I'm totally sexy!"
Do you ever have "open mics"? For example, if I showed up in drag and heavily waxed, could I get up on stage and model?
Dude, if you put that much effort into it, you could totally model. If you tried that hard, baby, I'd put you on that stage in a second. We do like to encourage that sort of behavior. Actually one of the things we do every show is, in order to win a gift certificate, we have a contest to see who's wearing the cutest underwear in the crowd. We definitely have some audience participation.
On a scale of 1 to 10, "1" being a high school art class still life session with a bowl of fruit, "10" being an absinthe orgy in a 1920's French cabaret, where does Dr. Sketchy's fall?
God, I really want say "10." We're more of a "9." We're not looking to get arrested, but we're definitely looking to have a good time.