Monday, September 10, 2007
Photo Gallery
Style Scout: Kelly Nightengale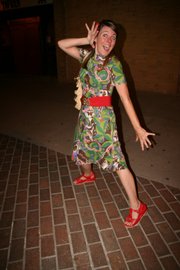 Kelly Nightengale
Hometown: Topeka
Age: 38
Time in Lawrence: 20 years (minus a couple years when I lived in Austin, but I came back)
Occupation and/or major: Housing Specialist and part-time musician
What were you doing when scouted?
We were going to see Harvey Sid Fisher at The Replay. On our first date, I played Rob a video of Harvey's zodiac songs because we had just found out we were both Pisces. So tonight is a sentimental occasion.
Favorite clothing store?
The trash! I get all of my favorite things out of the trash. At this point I have a 20-year collection of old dresses and glasses from almost every era. I can shop in my basement by opening up a box of clothes I haven't seen in many years. My other favorite place to shop is at my cousin's house in the country, she's always giving away old eccentric dresses. I got a bunch of sequined leotards that I was recently able to use in this alien beach party movie we were working on. I also like shopping at all of the used clothing stores and at garage sales.
How often do you go shopping each month?
Hmmm. I suppose I always have my eye out for things when I'm roaming around in the alleys after dark armed with my handheld sequined tape player. Every now and then, though, I'll totally splurge and spend $75 in one shopping session, but that hardly happens anymore. I never buy new clothes, so it's pretty hard to spend a lot at one time.
How would you describe your style?
God, I don't know! I suppose I like to look like a drag queen, like a garage sale drag queen. I have like 40 wigs! My favorites are the beehive wigs. I'm all about bringing back the beehives, in fact my favorite article of clothing is the panties I put in my hair to make my beehive stand up big. A couple years ago, on my birthday, my personal wig dealer sent me a special wig for my birthday. Then I knew I'd finally made it.
What does your style tell strangers about you?
I think I am what the girls at the office would call "a real hoot!" A lot of times people stop me on the street and tell me I remind them of the B-52's but I don't know, I think I look more like my grandma:if she were on her way to some kind of psychedelic fun fair.
How early do you get up?
I really don't have a definite time. If I have to work, I get up early at 8 or so, but every now and then I like to sleep until 10 a.m. and then sit in bed and drink coffee before hanging out with the cats and playing records.
Favorite trend for this season?
Oh my God! Favorite trend? I have no idea. (Laughs) I can honestly say I don't have a favorite trend. I suppose my favorite trend in my house right now is black velvet paintings, those make me so happy. We found a black velvet tiger; she looks so aristocratic. Our friends Brett and Christine tipped us off on it; it was at Goodwill. I like the informal networks of people who tip people off when they find something in the trash that they know you'd like. "There's an antique car wine decanter, you should come check it out. "
Tattoos?
Yeah I have several-two birds on my chest and a heart and memorial tattoo of my cat on my right arm. She lives forever on my arm. And I have piercings in secret places.
Where do you get your hair cut, and why do you go there?
Well, I actually go to one of those utilitarian walk-in places where it costs like $10 because I don't really have a haircut. I have long hair that you cut in a straight line at the bottom. My mom was a hairstylist and always cut my hair, so I'm not used to paying for a real stylist. I should probably go see Andiy at Static and have her fix the terrible highlighting job I did myself.
Is there anything you'd like to see more of in Lawrence?
I'd like to see better public transportation, actually, some good late night public transportation. And I'd like to see a movie theatre that shows old cult movies and serves cheap food like the Alamo Draft House in Austin.
Tell us a secret:
I don't know how much of a secret it is, but I have terrible performance anxiety. Every time I have to play guitar for The Spook Lights I have a massive dose of stage fright. It took me many years to be able to play in front of other people. I still just about have a panic attack every time! I've been lucky to have good people supporting me in all these endeavors.