Monday, September 10, 2007
Photo Gallery
Style Scout: Rob Gillaspie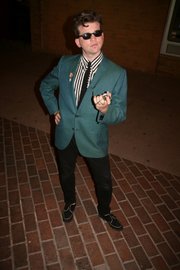 Rob Gillaspie
Hometown: Topeka
Age: 31
Time in Lawrence: 13 years
Occupation and/or major: Bartender / Entertainer / Professional Crowd Pleaser
What were you doing when scouted?
Going to kneel at the altar of Harvey Sid Fisher.
Favorite clothing store?
It used to be the DAV here in town, until Goodwill, the Wal-Mart of thrift stores, ran it and the Salvation Army out of town. I get a lot of my clothes out of dumpsters. I'm not sure what my favorite store is in town. I usually go to Topeka or Kansas City to hit the thrift stores there. Other stores you frequent? You mean besides the liquor store? Me and (Jenson's owner) Jeff Jenson are on a first-name basis.
How often do you go shopping each month?
I'd say I go shopping about once a month and, depending on the haul, spend anywhere between $5 and $50.
How would you describe your style?
Wait, I'm trying to think of something witty. (Laughs.) Stylish middle-aged delinquent.
What does your style tell strangers about you?
That I have better taste than them and I might cut them. Both of which of are true.
How early do you get up?
Now that I don't really have a morning job anymore, I try to be out of bed by 9:30 or 10 a.m. I used to be up by 5. If I'm not out of bed by 10 a.m., you know something went terribly wrong the night before. Yesterday we didn't get out of bed until 1 or 2 p.m., since we'd played a show the night before in Kansas City and were out way later and got way drunker than we intended to. But that's the life of a professional crowd pleaser.
Favorite trend for this season? Least favorite trend right now?
I'm not much of a trend watcher, I'm more of a trend-setter. So, I'd have to say, from what I've observed from my high tower, I'm glad that emo fashion seems to be dying. (Laughs.) You know what else I'm glad is going away is mini-skirts over jeans. I'm glad that's about to vanish. I like, only with trepidation, that '60s girl-group-style is coming back in, which has always been a fetish of mine with the big hair and big boots. But, I can't help but think that Kelly has been sporting that look for the last three years. Once again, trend-setter, not trend-follower.
Tattoos?
Most of my tattoos are stupid. I have a tattoo on the back of my neck that says, "HATE" from when I was an 18-year-old gutter punk and hated society and I wanted to show society by getting a tattoo. Obviously the best decision I've ever made. I'm finally getting it covered up next month. A little less negative is a tattoo of me huffing gas on my arm with a banner that says, "Topeka," which I think is pretty self-explanatory.
Is there anything you'd like to see more of in Lawrence?
More of? Late-night diners downtown. When I first moved here there were at least three and now there's none. I'd also like to see a decent arcade with skeeball, drive-in movie theatre, and I guess a wider array of thrift stores.
Tell us a secret:
When I was five years old, my class went to see "Savannah Smiles," this movie about a girl that gets kidnapped by these two rascally backwoods hoodlums, but they are nicer to her than her parents are. At the end of the movie they get arrested and she cried when she has to go live with her sucky rich parents. I cried and cried. I balled liked no one's business and they had to send me home from school.