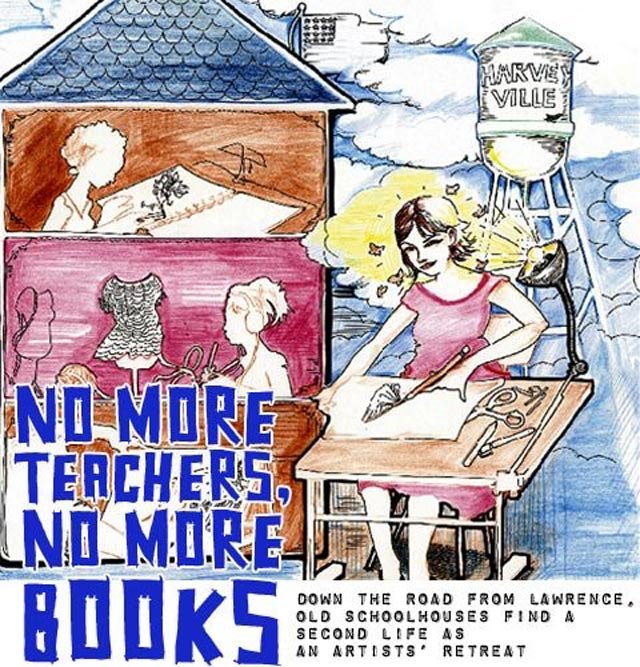 Monday, September 17, 2007
Take the lunch lady, for starters. That's one way Harveyville Junior High has been thrown askew since the kids shipped out three years ago.
The lunch lady is a tattooed, pierced dude in a blue bandanna and white apron-half punk, half domestic. He's also a savvy chef who once owned a few hip St. Louis restaurants with names like Tangerine, Hungry Buddha, The Chocolate Bar and Lo.
Today he's preparing lunch for a group of visiting art students from KU-Mediterranean pasta salad, lettuce wraps, cheese polenta with mushrooms in a wine sauce, chipotle chili brownies and watermelon marinated in sugar, lavender, ginger and honey.
There are countless other ways in which the school has changed. Like the front lawn occupied by big metal sculptures, the second-story science room filled with arts and crafts supplies, and the stage littered with guitars and amps.
But what's more arresting is the strength and pervasiveness of the old schoolhouse feel-that nostalgic vapor that inhabits your old school, my old school, everybody's old school, lying in wait for our return.
The Harveyville Project
Take a slideshow tourof the Projectguided by Nikol, Ron, and crew
View audio slideshow (5 min.)
In the gym there's the caged clock, scoreboard, giraffe growth chart, and big U.S. flag. In the grade school next door there's the room with teachers' mailboxes, still labeled by name. And signs everywhere issue various official proclamations-"Keep This Door Closed At All Times By Order Of State Fire Marshall," "Tobacco-Free School," and a list of rules-one of which is "Follow all directions and rules."
The school's doors were closed to students in spring 2004. About a year later its new owners moved in. They are Nikol Lohr, 37, a crafter, blogger, and author of a kinky knitting book, "Naughty Needles"; and her partner, Ron Miller, 32, a musician, painter and tattoo artist.
There have been rumors in town about what these two tattooed persons are doing in the school. Some have wondered aloud if they were running a "whorehouse," or maybe an internet pornography business.
Everybody wants to know what you do when you have a brick-and-tile Kingdom to call your own.
Schools for saleYou, too, can own a school! In lovely rural America! For dirt cheap! Checking eBay last week, we found the following listings for school buildings:¢ Sylvan Grove, Kan. (classified ad) $188,000 23,500 square feet 10 classrooms, gym, tennis courts Built in 1960¢ Kingston, Idaho (classified ad) $525,000 10,000 square feet Built in 1930, restored to original decor Near Silver Mountain Ski Resort¢ Long Pine, Neb. (classified ad) $75,000 18,000 square feet Three stories Built in 1919¢ Bluefield, W.Va. $45,100 (after 33 bids) 33,000 square feet Built in 1926 Former students include John Forbes Nash, real-life mathematical genius portrayed in "A Beautiful Mind"
***
Harveyville is a small, slowly shrinking town 40 miles southwest of Lawrence. It's population is listed at 252, which is 15 fewer people than in 1990.
Things are slow this afternoon on the corner of Main and Oak streets. No cars pull into the two-pump gas station. The bank closed 15 minutes ago, at 3 p.m., and the library isn't open today. A woman sits at a desk in the window of the real estate office, glancing up as you pass.
Laurel Riggin is working the checkout counter of Riggin's Market. Her T-shirt says "Mission Valley" and "It's Great to be a Viking." Mission Valley is the consolidated school about nine miles away that the Harveyville kids are now bused out to. The high school students split off many moons ago but the junior high and grade school students had remained.
Riggin says she was happy to see someone move in before the historic buildings-built in 1939 and 1954-began to crumble. She visited when Ron and Nikol held an open house, and says that from what she's seen of them they come across as very friendly people. But she remains a little baffled as to what goes on.
"I still don't even know, when the people come and stay with them," she says, "exactly what they do."
This thought is echoed moments later by a woman carrying a small stack of letters down Main Street. She asks us what's going on at the school, confessing she knows nothing. "I went to school there," she adds, "a long time ago."
***
Here's how this whole thing got started. It's a simple love story, really.
Ron and Nikol wanted to move in together. He was in Seattle. She was in Austin. Somehow, they started looking at "alternative" places to live, like old missile silos and churches.
"We just got to the point to where we said, 'You know, I want to be where you are and I want to do something like we talked about,'" Ron says, "because we would brainstorm and we would write ideas down and we knew we wanted to do something together, we just weren't sure what."
Nikol says, "I think we both wanted to live in a big space-a big, unusual space-and have lots of room. Ron, in Seattle, was living in like a 700-square-foot apartment. I was living in a good-sized house in Austin, but it was slowly closing in on me because of my crazy-old-lady hording of things. The house was getting smaller and smaller from all my stuff. So I wanted to be able to spread out."
Nikol says this from a bench in the high school lobby. To her right is a big trophy case containing anatomical models, globes and other miscellanea. These are things Nikol collects.
Among the 40 items listed as things she collects on her "Disgruntled Housewife" blog are snow globes, aprons, novelty peeing/squirting and sex dolls, children's chemistry and science sets, wind-up animals, toothbrushes, nude and novelty playing cards, Virgin of Guadalupe memorabilia, penny banks and candy cigarettes.
"She has a lot of collections," says Nikol's best friend, Suzanne Link, a yoga instructor from Austin who's in Harveyville today on a visit, "which is to say she's a pack rat."]
Anyway, Ron and Nikol started by scoping out big buildings near their homes in Texas and the Pacific Northwest.
"Then at some point the idea of a school came into mind," Nikol says. "So we started looking at schools, especially in little rural towns. Because of rural flight and school consolidation, there were a lot of schools being offered up for sale."
They looked at some schools in Western Kansas, but everything they saw was just so flat and far, far away from a big city. Then they came across an eBay listing for a school in Eastern Kansas. It was two hours from Kansas City, but the building needed too much work. The man who'd listed it, however, told them about the buildings in Harveyville. So they checked them out.
"I fell in love with them right away," Nikol says.
$65,000 later, they were the proud owners of two big brick school buildings and nine acres of land. Shortly afterward they bought two more school buildings in Eskridge, a town just to the northwest, for an undisclosed amount. And then they got to tell their friends and family.
"I don't think anybody was all that surprised, but they did think we were a little nuts when they found out that we had four schools," Nikol says. "And I sometimes think we're a little nuts when I think about the four schools."
"Now," Suzanne Link says of her hording friend, "she has a collection of schools."
***
Ron and Nikol made big plans, of course. You gotta make big plans if you purchase a spread like that. They wanted to establish a residency program open to all artists, writers, musicians, photographers, etc., who would want to stay over a while to work on projects.
Nikol designed a snazzy website for the newly christened Harveyville Project and packed it with alluring statements like:
Enjoy the solid, reassuring institutional architecture of the early 20th century amidst fresh air, breathtaking stars and moonlight, rolling hills, weather you can watch from miles away, and quiet you can actually hear.Conveniently located at the corner of No and Where. Nary a McDonalds nor Starbucks as far as the eye can see, but still a comfy drive from civilization. 50 minutes to Lawrence, 35 to Topeka, and less than two hours to Kansas City.
Photo Gallery
The Harveyville Project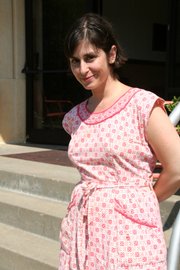 But first there was work to be done: sweeping and vacuuming, ripping out cabinets and prying up tile, scrubbing and staining and sealing and painting. Plus unpacking Ron's stuff and, mostly, Nikol's stuff. And organizing it. Two and a half years later and they've hardly gotten to the Eskridge buildings yet.
In addition to their living quarters in the high school, Ron's got his "bachelor pad" set up in a grade school classroom, which is full of his artwork and also houses a motorcycle. (A motorcycle indoors! What could be better?) But aside from the occasional guitar or yarn creature lying around, or the pool table and TV in the cafeteria, the place has the general appearance of a clean, sunny, ordinary school.
Guests so far have included a photographer, a computer programmer, a knitwear designer, a poet and a pair of filmmakers. They've also held special events, including two spring "proms" and workshops called "Yarn School" and "Felt School."
Blake Brokaw, the chef, has been staying for a month on the "work-exchange program," meaning he works about 20 hours a week-mostly cooking for the semi-regular visitors, in his case-in exchange for his room and supper.
He discovered the Harveyville Project through an article in ReadyMade magazine and thought it would be a relaxing place to stay for a while before moving out west from St. Louis. He lives in the first-floor English room-a big, sunny, classroom that's bare except for whiteboards, a bed and a clothing rack.
"It's been cool," he says. "It's very quiet. I haven't slept like this since I was a kid."
Chantel Guidry, of Lawrence, contacted Ron and Nikol after reading about the place in Venus Zine. She applied for the work-exchange program (they have applications) and spent the month of August in Harveyville writing poetry. She gushes about the place to the point of infomerciality.
"I know a lot of people in Lawrence who I think would really enjoy going out there," she says. "In my case, I was trying to jumpstart my creativity, which had kind of gotten bogged down. : My goal when I went to Harveyville was to come back with 15 completed poems, and I wrote over 50 while I was there. Up to this point in my life this has been the most productive period that I've had."
Past Event
Thursday, September 20, 2007, 6:30 p.m.
4-1-1 Studio, 411 E. Ninth, Lawrence
All ages / Free
***
Despite the cash they made from selling Nikol's house in Austin, the advance on her book and Ron's earnings as a tattoo artist, money's been tight-between expenses like mega-heavy-duty insurance, heating and general upkeep.
Ron recently started working in a tattoo parlor in Topeka after doing spot work in various shops for the last couple years. And Nikol is working on proposals for two new craft books.
Meanwhile, they say the town has warmed to them as they've settled in.
"I think in a small town like this, you're pretty much outsiders forever to a certain extent," Ron says. "Especially the old people here, they just remember you the first way they met you and that's it, which is fine. For the most part we're kinda outsiders, but we're not not accepted. She designs the book for the fair and I try to do as much as I can when they need me. We definitely try to be a part of stuff."
Kids play in the playground in their backyard, the parade for the annual town fair starts outside the school every year, and they've been to a number of farmers markets, pancake feeds, chili feeds and football games.
"I think most people are glad that we're using the buildings," Nikol says, "because in towns all around here you see buildings falling down and not getting used or, if they are getting used, getting gutted and totally losing their sense of place as a school.
"They're still kinda guarded. They don't know quite what to make of us yet. But I think people are fairly comfortable with us. I don't think they're worried about what we're gonna do anymore."
Ron and Nikol say they're happy in their kingdom. They say they're here to stay.
"This is where I want to live," Ron says. "I don't know what it'll evolve into or what it'll become. I do know that they're not making any more land, so eventually people are gonna find their way out here and it'll be just like the place I left. But hopefully I'm not around to see that."
On this afternoon, after the art students have finished their gourmet meal and headed back to Lawrence, after Ron has left for work and after Nikol has finished talking with us in the lobby, she follows us out to the driveway.
She says goodbye, walks to the road and pulls a few letters out of the mailbox. She's wearing a very domestic pink and white summer dress. She goes through the mail as she crosses the yard to her home. It doesn't seem all that strange.