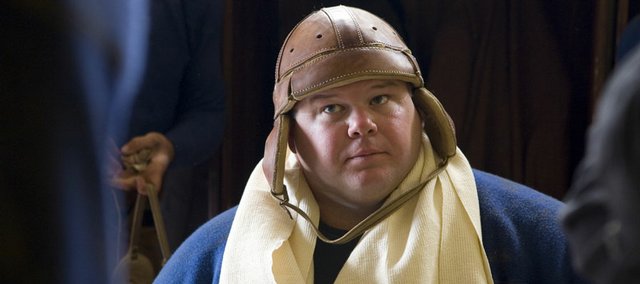 Audio clip
Keith Loneker on being punked by George Clooney
Leatherheads
Movie Review
Keith Loneker is on TV right now punching the bejesus out of a hapless referee. His mug is on the homepage of Yahoo.com, grimacing and readying for a showdown. As of today, he's also appearing in a couple thousand theaters around the country.
The Lawrence resident is a cast member of the new film "Leatherheads." And, oddly enough, Loneker has been vaulted into the position of featured performer in the football comedy's marketing campaign.
"It's funny because I'm trying to prepare my family. I said, 'Listen, you've seen me kick the ball. You've seen me punch the people. That's a lot of my scenes,'" Loneker says. "It's cool that they used my stuff to promote the film, but just remember, this movie is about George, Renee and John."
Specifically, that refers to Oscar winners George Clooney and Renee Zellweger, and John Krasinski of "The Office."
Loneker was recruited by writer-director Clooney to star in the screwball comedy. It follows the exploits of the 1925 Duluth Bulldogs of the struggling professional league, whose premier player (Clooney) hatches a plan to increase attendance by enticing a Princeton standout (Krasinski) to join his ranks.
Clooney's character also recruits Loneker, whose 6-foot-4-inch, 300-pound frame dwarfs the other players of the era.
"I'm an 18-year-old high school kid named Big Gus," says Loneker, a former offensive lineman for Kansas University and the NFL's Rams and Falcons franchises.
"Originally, just being a big guy, they think I'm going to help them on the offensive or defensive line. But when I show up, I'm the kicker."
The actor describes his character as an easygoing high schooler who's trying to balance his homework while traveling around the country "with a bunch of welders and pig farmers hoping to make a living playing football."
One of the biggest initial challenges for the 36-year-old was portraying a character half his age.
"Everybody always says I have a baby face," Loneker admits.
"When George called me and gave me the part, he said, 'Just let your hair start growing out.' But it had been so long since I've grown hair - before the NFL - that when it started growing in I called George back and said, 'Dude, we've got a problem. I'm having a party on my head and not everybody wants to show up.'"
The problem was solved through the magic of "special effects"; Loneker was fitted with a floppy hairpiece.
Although Loneker hadn't played the sport since being a member of the Atlanta Falcons in 1996, he was greeted with a surprise when he arrived at the North Carolina set of "Leatherheads": football practice.
The majority of actors appearing as players were brought in two weeks early and immediately issued cleats and prepped for running laps.
"I told the stunt coordinator who was in charge of it, 'I don't know about this. You guys paid me my acting rate. You didn't pay me my football rate,'" Loneker says, laughing.
Learning the playbook
It's been 10 years since Loneker first got a taste of being in front of a Hollywood camera. Once again, Clooney was involved.
Loneker debuted as clumsy henchman White Boy Bob in the Oscar-nominated "Out of Sight," a sexy heist film starring Clooney, Jennifer Lopez and Don Cheadle.
"I didn't even know how to read the call sheet the first time I got it," he recalls of shooting the movie in 1997. "I woke up at 5 in the morning and went and sat in the lobby because I didn't know when my car was coming. So I just waited down there until somebody came and called my name."
Recently, Loneker jump-started his acting career after a lengthy hiatus. In addition to "Leatherheads" and a small role in "Superbad," he can be seen this fall in "Lakeview Terrace," the latest directorial project from KU graduate Neil LaBute ("In the Company of Men"). The film stars Samuel L. Jackson as an L.A. police officer who decides to drive out an interracial couple who moves in next door.
"I go from this funny, soft-spoken guy in 'Leatherheads' to basically a street criminal who is tearing up a house in 'Lakeview Terrace.' You don't see too many guys jump from comedy to that thriller stuff. I think it's going to show my skills pretty good," he says.
"Keith is so talented," says Malcolm Goodwin, who plays teammate Bakes Davis in "Leatherheads." "He's extremely versatile as an actor. He can make you laugh, cry and scare the hell out of you. His good heart shines through his work, which makes him a pleasure to watch."
Turning pro
Goodwin, an up-and-coming actor seen in "American Gangster," roomed with Loneker during the shoot. On off-days, Loneker helped Goodwin rehearse for auditions.
Loneker admits the more seasoned Goodwin completely changed his approach to auditioning.
"In the football world, when they tell you to run a play, you run that play," he says. "If you make one little mistake, you have failed on that play. So when I would get a script ... I would just say that line only. But Malcolm was like, 'Scrap that. If you want to add anything before or after, just do it. They want to see if you can act, not as much as if you just act this piece.'"
The New Jersey native views the time spent away from the "Leatherheads" set as "a four-month acting class" for him.
Back home in Lawrence, Loneker earns a living as a substitute teacher and youth sports coach. He's still 30 credits shy of his education degree at KU.
Right now, acting - more than football - represents his best chance at a steady career in the limelight.
"I know if I'm going to do it, I'm going to go hard at it," he says. "Obviously, it's a little harder from Kansas because you can't go to the real quick stuff all the time, like, 'We need somebody for a sitcom today.' But one thing about being from Kansas is that there's more mystery to you. When you're out (in L.A.) all the time and you're going into the same casting directors all the time, you get stale to them."
Loneker adds, "I know I'm never going to be that leading guy, but if somebody writes a story about a really big cat, I know I can be that character guy."