Dick Goziña, '80s rock stallion, 'stache money millionaire
How do you save money?
"I just work it. I work the bars that charge for the booze, and work the crowd that buys the booze. When I was in The Scorpions in '84, I didn't have to pitch a fit and throw my name around-son, they just looked at me and they knew. So far as the harder stuff? You really got to feel the night out, but it's good to have a diabetic friend. Shit-that's free needles, man."
How do you splurge?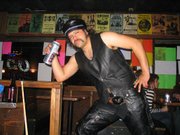 "Back in the day, it was the finest drugs and high-priced prostitutes. Now it's meth and white trash mothers. I tell you what, I used to have a Dodge Daytona that really kicked ass, but one night-I was doin' a little of this, doin' a little of that-now it's at the bottom of a lake. But that's not the point. The point is that it was a good car with good horsepower. As Beyonce would mumble with a necklace in her mouth, I wanna upgrade. Probably a '68 Camaro, because nothing says 'Bad Ass'-with a capital 'B' and a capital 'Ass'-like a Camaro. I was born in America, man. I enjoy a good night with my Kentucky Gentleman. You don't have to pay much to get the job done, because it's American-made quality, which always comes in quantity."
More like this story on Lawrence.com