Cassy Millstein
Age: 25
Sign: Aquarius
Hometown: Portland, OR
Time in Lawrence: 6 years
Occupation: Co-owner of The Casbah Market
What were you doing when scouted? Working really hard
Favorite store? The Casbah Market.
How often do you go shopping each month? Not even once a month due to lack of money and time.
Photo Gallery
Style Scout: Cassy Millstein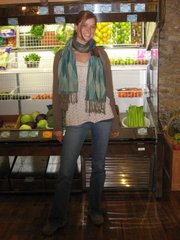 How would you describe your style? Family Matters.
Where do you get your hair cut? The last time I got my hair cut, I went to Salon DiMarco.
Favorite trends? Guys in short shorts, headbands that don't seem to have a purpose, and really old sundresses.
Least favorite trends? Clothes that say stuff on the butt. Fake tans.
Tattoos/piercings? I've wanted to get a tattoo since I was 14, and the kind of tattoo I want changes every week, which is thankfully why I don't have one.
Favorite coffee shop? I like La Prima Tazza because it is awesome. I think they have the friendliest staff and the best coffee.
Favorite bar? Louise's West.
What would you like to see more of in Lawrence? Scooters
What would you like to see less of? Motorcycles
Who are your fashion influences? I would say Ronald McDonald, Wonder Woman, and shades of brown.
Tell us a secret: I'm the Garmin girl, but I can't help you find your way around town.
More like this story on Lawrence.com