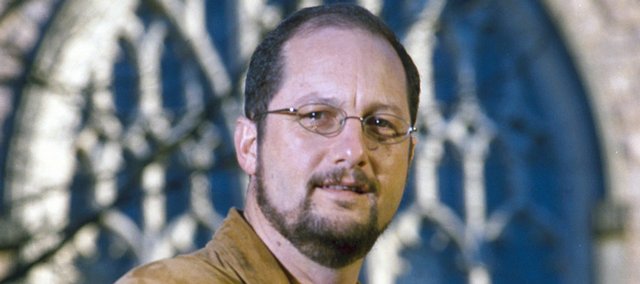 Audio clip
Bart Ehrman talks about his latest book
2008 Theologian in Residence events
The Theologian in Residence program is sponsored by many churches and faith organizations.
Today: Conversation with Bart Ehrman, 10 a.m.-noon, Plymouth Congregational Church, 925 Vt.
Sunday: Elden Fields Lecture, 2 p.m., Unitarian Fellowship of Lawrence, 1263 N. 1100 Road
Monday: Kansas University Religious Studies Banquet, 7:30 p.m., Plymouth Congregational Church, 925 Vt.
Two years ago, Bart Ehrman was yukking it up on "The Daily Show with Jon Stewart," Comedy Central's "fake" news show.
He was promoting his new book, "Misquoting Jesus: The Story Behind Who Changed the Bible and Why," which was a New York Times best-seller. The book's success marked a career highlight for the agnostic writer, former born-again Christian and Lawrence native.
Now, his new book, "God's Problem: How the Bible Fails to Answer Our Most Important Question - Why We Suffer" is another best-seller, rising to the Times' top 10 after its release last month. But Ehrman, chair of the department of religious studies at the University of North Carolina, hasn't been on "The Daily Show" again.
"I'm not sure that suffering really is the kind of stuff for Comedy Central," he says, joking.
Instead of "The Daily Show," the Lawrence High School graduate gets a much more personal treat: a trip home. He returned to the area this week as part of the 2008 Theologian in Residence program, a lecture series that began in 2001 and is sponsored by many local churches and faith organizations.
Wrestling with suffering
The existence of suffering has long bothered Ehrman, who first became interested in the juxtaposition of pain and the Bible when he was assigned to teach a class on suffering in the Biblical traditions at Rutgers University in the mid-1980s.
He says he always thought the authors of the Bible were constantly struggling with the question of why there is suffering. But, as he discusses in the book, part of the difficulty for the rationalization of suffering is that the authors do not agree on a reason - is it caused by misdirected free will, punishment from God or something else all together?
"I'm not a believer in God anymore, but I certainly think that people have free will and this leads to horrible suffering. But the problem with this explanation is that it leaves so much out of the equation," he says. "Whenever anybody has something bad happen to them and they say something like, 'What did I do to deserve this?' they're presuming that the reason something bad has happened is that God is punishing them.
"But you really have to ask if that's a satisfying answer to why there's suffering in the world. You know, when every five seconds a child in our world starves to death, is it really because this child has sinned and God is punishing them? Seems kind of unlikely."
In Ehrman's own life, he also had suffering that could not be explained away - pain he met head on as the then-pastor of Princeton Baptist Church in Princeton, N.J.
"In this church, there was this middle-age couple whose son had recently committed suicide. And they had to cope with that. And as a pastor, what do you say to somebody like that? I think the last thing you say is, 'There's a reason for everything,'" he says. "In point of fact, there's not a reason for everything."
Bringing his thoughts to the people
Ehrman was baptized at Plymouth Congregational Church, 925 Vt., as a child before attending Trinity Episcopal Church, 1011 Vt., for the bulk of his youth. The Rev. Peter Luckey, whose Plymouth Congregational is hosting a conversation with Ehrman today, says that if the crowd is as open-minded as his congregation, Ehrman shouldn't have any problems discussing his ideas.
"We delight in asking questions and struggling with the meaning behind the text and we very much believe that as people of faith, we're called to bring our intellect and our brains into faith conversations," Luckey says. "A book like Bart Ehrman's is not going to be threatening, but it's actually going to be stimulating. It will cause them to think at a deeper level about what we believe."
That's why Ehrman has plans to churn out yet another book - he's written 20 so far - examining the Bible. He says he's still debating what next to put on the shelves, but he's got a few ideas and likely will write one for fellow scholars before spinning it into a book for the masses.
"I'm really interested right now in something completely different - nothing to do with suffering," he says. "It's the problem of how in early Christianity ... there were so many literary forgeries floating around. These are books that are claimed to be written by the apostles centuries after the apostles had died. And as it turns out, some of these literary forgeries turned up in the New Testament.
"That's where the popular book will kick in."