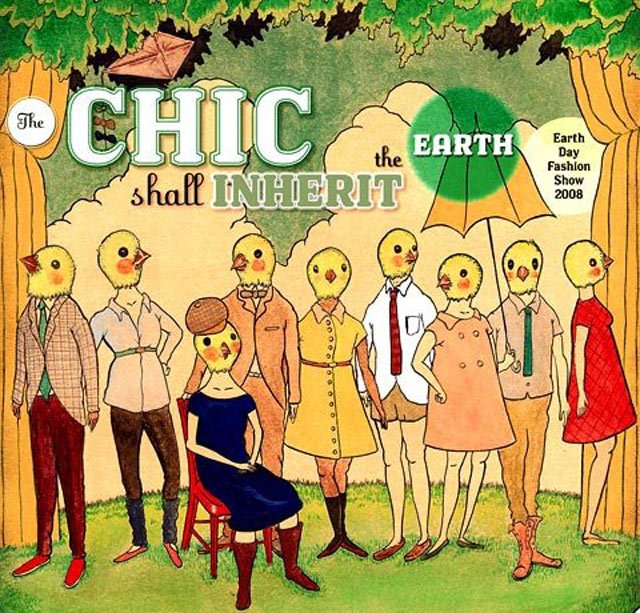 Trivia question: When do bags upon bags crammed with neckties-enough to wear a different one every day for maybe two years-come in handy?
Answer: When you're a crazy-ass fashion designer. When you're sewing an entire gown out of ties. When at least 150 go into the skirt alone.
Chelsi Hornbaker, the designer in question, asked her grandpa for some ties around Christmas. She knew he had some ace relics from his history-teaching days. "I thought he maybe had four," Hornbaker says, "and he dug out two bags full."
Knowing she'd struck Texas tea, Hornbaker asked her other grandpa for more ties, and he, too, forked over two bags of them. Then she and her mom and grandma hit the thrift stores and purchased more bags upon bags of ties. Three hundred, 400, 500. Wide ties, thin ties, floral-print ties, Bible-verse ties, ties that play songs when you press them in the right spot.
And then she and Steffani Day, her classmate in the fashion design program at Johnson County Community College, rudely divorced the ties from their original purpose and began turning them into a line of garments.
A line of garments for you, dear reader, to feast your eyes upon Saturday at the fourth annual Earth Day Fashion Show, an occasion so mind-blowingly momentous-10 lines of clothing from local stores and designers! More than 100 models! 1,900 seats to fill!-you might die of fashion overblow.
For the hundreds of people involved in putting the show together as a benefit for the Clean Water Fund, this means 10 lines of clothing to throw together, 100 models to clothe and doll up, and one cavernous Lied Center to logisticize.
"It's a heck of an undertaking, I will say that," says Mark Swanson, who last year went as far as to construct a makeshift limo on stage for his Hobbs and Spectator's models.
The genesis of the ballooning fashion show occurred three years ago when Mark Chapman and other folks at Lada Salon & Spa wanted to throw an Earth Day event to raise money for the environment. Being salon folk, perhaps it wasn't a stretch that they dreamt up a fashion show, and pretty soon about six of them found themselves doing hair and makeup for more than 100 models every year.
After the line of people waiting to get in last year snaked from Liberty Hall to Borders a block and a half away, Chapman figured the event required more space. The show has sold out three years running and raised more than $3,500 a year. This year Chapman hopes to raise $5,000 in what he says will be the largest fashion show in a four- or five-state area.
Photo Gallery
Local fashion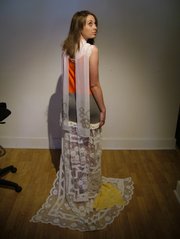 In the past, all the modeling was done by locals, mostly KU students. Last year Wilhelmina, a big, national modeling agency, announced it would be awarding a modeling contract after the show. The agency ended up awarding four contracts and is supplying 60 models this year'.
"Not to sound cocky, but our show is incredible," Chapman says. "Wilhelmina told us last year that it was the best show that they'd seen in the Midwest. And coming from them, that is amazing."
For local stores, the show is a rare opportunity to pimp their wares in front of a large, captive audience.
"You take a garment and you hang it on a hanger and it looks like one thing." says Loni Hosking, local designer and Ecoboutiquo owner. "You put it on a body and put it on a stage and put lights on it, and it just looks fabulous. It's really great advertising."
And putting outfits together with a fashion show in mind gives designers and store owners a chance to go more over the top than they might with the stuff you ordinarily see in their stores.
Hosking, whose reinvented, recycled clothing fits in neatly with the Earth Day theme, has been working on a dozen garments for the show since the beginning of the year. One dress utilizes an old-fashioned lace tablecloth for the skirt. One is made up of about a dozen slips sewn together. An "earth flapper" dress is covered in green sequins. Another has a simple black slip on top with maybe 50 scarves sewn on the hemline.
"When you're trying to keep a boutique open, you make a lot of street-type wear that people can picture themselves wearing," Hosking says, "but for a fashion show-especially at the Lied Center-I tried to sass it up a little bit and make it a little more theatrical, a little more dramatic."
Past Event
Saturday, April 19, 2008, 7 p.m.
Lied Center, 1600 Stewart Drive, KU campus, Lawrence
All ages / $10
With a smorgasbord of incongruent local stores involved, you'll end up with Hosking's tablecloth dress bumping up against Vintage Van's lineup of cheesy-awesome '20s-'70s formalwear and swimwear, with models marching to the tune of the Beach Boys' "Good Vibrations" and Kenny Loggins' "I'm Alright."
"Sometimes I have to kind of convince the kids about the music, but that's what makes it fun," says Vintage Van owner Martha Pierce.
She has selected from her collection of retro wear (which she sells in the loft of Antique Bazaar II) such pieces as a '30s gold and metallic ruffled dress, a pair of wool swimsuits from the '20s and a '60s yellow ruffled go-go dress that could have been worn by Goldie Hawn on "Laugh-In."
Swanson, owner of Hobbs and Spectator's, doesn't plan on constructing a limo on stage this year, but he says that coordinating outfits, music, hair and makeup for two dozen people-12 models for each store-inevitably leads to a big, hectic rush at the last minute.
Audio Slideshow
Earth Day Fashion Show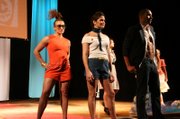 "It's just amazing how much involvement it takes for these things," he says. "But it always ends up, when the thing begins, and the lights and the action and everything is on, it's so much fun that it's like, 'Yeah, it was worth it.'"
Hornbaker and Day, meanwhile, will be "all tied up" (get it, reader?!) right up to the night of the show, stitching each tie into place. "We're going to keep on going," Day says, "pull some all-nighters and pull it off."»
More like this story on Lawrence.com