Johanna Mehl
Age: 18
Sign: Cancer
Hometown: Lawrence
Time in Lawrence: 18 years
Occupation: student/cashier at the Merc
What were you doing when scouted? Hanging out with my best friend Hannah.
What are your favorite stores? Rudy's, Love Garden, my friends' closets, ATC, and Social Service League.
How often do you go shopping each month? Not very often anymore, maybe once every few months. I borrow a lot of my clothes from friends.
How would you describe your style? Cheetah print and cobras.
Where do you get your hair cut? Andiy at Static.
Photo Gallery
Style Scout: Johanna Mehl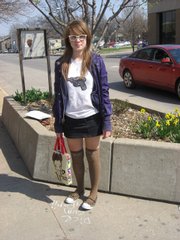 What's your favorite trend in fashion? Cute little summer dresses, sideburns, high-waisted flare jeans, and anything Japanese.
Least favorite trends? North Face Roo backpacks and leggings as pants.
Tattoos/piercings: I have my ears double pierced. I want to get a tattoo of a koi fish on my wrist.
Favorite coffee shop? I like La Prima Tazza because they have two for Tuesdays and I like their chai lattes. I also like going to Henry's.
Favorite hangouts? Hannah's house, The Merc, downtown.
What would you like to see more of in Lawrence? A roller rink and more local businesses downtown. I also want a Lulu's Noodles again, and it would be nice to see more bike riders and bike paths.
What would you like to see less of? Unlevel sidewalks and bad attitudes.
Who are your fashion influences? Frida Kahlo and my friend Hannah. I like Deborah Harry's style too.
Tell us a secret: My nickname used to be Super Wanda.