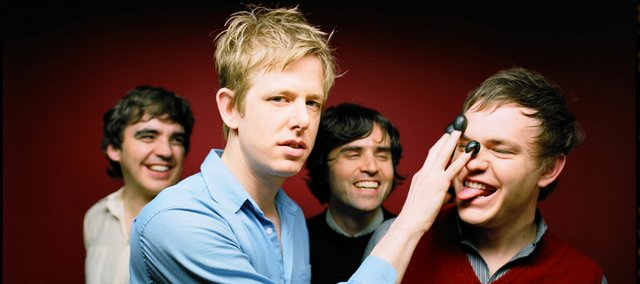 Past Event
Sunday, April 20, 2008, 8 p.m.
Liberty Hall Cinema, 644 Massachussets Street, Lawrence
All ages / $21
Spoon
Rob Pope is gearing up for a show in Atlanta during his latest tour stop.
While being on the road is commonplace for the Lawrence musician, he realizes this particular day merits its own significance.
"It's the last day of my 20s. I'm having a mild panic attack," Pope reveals. "But I've had a good run."
True words indeed.
Since breaking through as a founding member of The Get Up Kids while just a teenager - still the top-selling band to call Lawrence home - Pope has lent his four-string talents to Koufax, White Whale, The New Amsterdams and Tijuana Crime Scene.
But as of April 2006, Pope is enjoying membership in his biggest band yet: Spoon.
"There has been no hazing involved," he says of being "the new guy" in a group together for 14 years. "We are very fraternal, but there's no hazing."
Pope is touring with Spoon after having recorded "Ga Ga Ga Ga Ga," his first album with the Austin, Texas, act.
Following the October release of this sixth Spoon record, the indie-rock quartet - featuring Pope, singer/guitarist Britt Daniel, drummer Jim Eno and guitarist/keyboardist Eric Harvey - has endured constant touring.
"There are not many days off. We've spent a lot of time overseas," Pope says.
"We were over in Australia for a couple weeks doing a big festival. We got to hang out with LCD Soundsystem and Arcade Fire and all these people with common interests who we normally wouldn't ever get to spend that much time with. But since we were in a big touring production, it was an easy way to make friends."
Spoon has also become a recent staple on late-night television, having serenaded hosts such as David Letterman, Conan O'Brien, Craig Ferguson and Carson Daly.
"David Letterman is very cold - the studio itself. They don't want to see anybody sweat in there. Jay Leno is a very nice man and a casual dresser when he's not on camera. Denis Leary was also on the show that night, and we signed a CD for his daughter, who is apparently a fan," Pope says.
The highlight, however, proved to be appearing on "Saturday Night Live."
"If someone had told me I'd be doing that when I was a kid, I would have never believed it," he says.
Spoon was the musical guest on the Oct. 6 edition of the series featuring Seth Rogen ("Knocked Up") as host. (Coincidentally, Spoon provided the soundtrack to former "SNL" star Will Ferrell's movie "Stranger Than Fiction.")
"The Thursday beforehand we got to 'Saturday Night Live' and were setting up," Pope recalls. "We finally get our sound dialed in, and we're playing 'The Underdog,' and I see this tall, old man in the back. We can't really see because the lights are on us. But sure enough, as soon as the lights go on, Chevy Chase comes walking out of the darkness to shake all our hands. That was a little intimidating."
Spoon lure
Pope first witnessed Spoon play live during the 1999 CMJ Music Marathon in New York.
"There weren't that many people there," he remembers.
He learned of Spoon's need to fill its bass vacancy from a friend who had recommended Pope. When Spoon headlined Kansas University's Day on the Hill in 2006, he ended up rehearsing with the band at his house in Lawrence. From there "it just kind of clicked," he says.
Of course, the ensuing rehearsal situation proved challenging for the Lawrence resident.
"It just makes us have to plan band practice way far in advance. It has to be plotted out," he says.
Complicating matters is the fact that frontman Daniel now lives in Portland, Ore. And Pope just moved to Seattle in September with his girlfriend.
"We have Texas and the Northwest covered," he says.
He claims the band has met at practice spots all over the globe, including Black Lodge Recording in Eudora, a business Pope continues to own with his musician brother, Ryan, and producer Ed Rose (both of Lawrence).
Additionally, Pope is co-owner with the pair of Lawrence watering hole The Bourgeois Pig, 6 E. Ninth St. And the Pope brothers still run the Lawrence-based screen printing shop Blue Collar Press and online merchandising company Blue Collar Distro ("The merch table of the Internet").
"First, Rob is an amazing bass player," says business partner and frequent recording collaborator Rose.
"Whether he's playing the bass guitar or a bass synth, he always comes up with cool, original lines. Second, Rob's a great arranger and understands when to make space and when to fill it up. And, he has great taste in music which gives him great perspective and allows him to think about things from a bunch of different angles."
Career pursuit
On the eve of his 30th birthday, Pope appreciates that he's been a career musician for over a decade.
"That's very hard to do in Kansas," says Pope, who grew up in Olathe but moved to Lawrence in '99.
"I remember when my brother and I finally quit the weird temp jobs we had between tours around the time the second Get Up Kids record came out. That's when I realized I was making a living off this full time."
Pope admits he misses playing in bands with his brother, who rounded out the rhythm section in both The Get Up Kids and Koufax.
So how does Spoon drummer Jim Eno compare with younger sibling Ryan?
"It's a totally different thing. Ryan is an aggressive, fast drummer. Jim is not," Pope says. "One of the guys in a band we played with recently said Jim is the most economical drummer he's ever seen. I thought that was a great description. Both have amazing qualities. But I'm not going to pick sides. I love them both."
Bringing it back home
Pope believes his own playing style has changed over the years.
"I try to be tastefully creative. A lot of times less is more. Sometimes you want to hear more. I'm trying to really play for the song. There are moments when there doesn't need to be bass," he says.
"Spoon is known for its minimalism. We're always bewildered by that."
The bassist will have a chance to reconnect with his brother, his various business interests and his longtime hometown of Lawrence on Sunday when Spoon performs at Liberty Hall, 644 Mass. Opening up is Olympic Size, Ryan Pope's latest project.
"I haven't seen him play in that band, and I'm looking forward to it," the elder Pope says. "And it's the last night of the Spoon tour, so I assume some debauchery will occur."