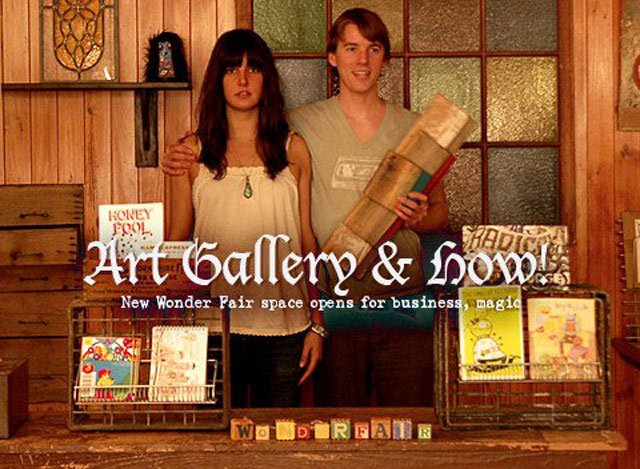 Eric Dobbins is under the gun.
"Renovation is such a slow process. I won't be completely satisfied until there's some art on the walls," said Dobbins. "Getting some people down there will be a big step."
He'll get art on the walls soon. Dobbins' new art gallery, Wonder Fair, opens April 26 with an exhibit in lieu of thanks to his cohorts in the Fresh Produce Art Collective. Works by 18 or more members-from Whit Bones to Andrew Hadle to Dobbins himself-will ring in the new space.
Yet Wonder Fair is not, it must be noted, another cog in the growing FP machine. "I'm just keeping love in the air. Fresh Produce has done a lot for me. Showing with them has been wonderful," he explains.
Lawrence's latest art/work space is nestled under the newly opened Casbah Market (803 Mass.; walk in, hook a left down the stairs). It's a labor of love for Dobbins and his business partner and girlfriend, Casey Millstein (who also co-owns the Casbah Market).
Dobbins describes Wonder Fair as a "showcase for the contemporary rad." The hip lingo combines with the hard work and creativity of the space itself to lend a feeling of viability: it's comfortable without being easy. Part gallery, part illustration studio, part screen-print shop, part frame shop-it may read like an ADHD wave gone material, but diversification in time, energy, and productivity is often the life raft in today's art market.
Past Event
Saturday, April 26, 2008, 6 p.m. to 9 p.m.
Wonder Fair: Art Gallery & How!, 803 Mass. St., Lawrence
All ages / Free
Visitors who have been in the basement of the Casbah building will be shocked at the renovations. Formerly the flood-damaged space of FF&E; Sign (still broadcast by old neon), Dobbins has cleaned up and done good: clean white drywall lines two walls; refurbished salvaged furniture and fixtures populate and define; and even re-engineered screen-printing tools make the space workable. Adam Smith, of Adam Smith Cuts and Frames, will run a framing business out of the joint, too.
Being a business owner is not what Dobbins had in mind when he graduated from KU last May.
"The space opened up, and it was like a light bulb exploded in my head," said Dobbins.
Changing gears, however, seems to be something Dobbins does with grace. It wasn't that long ago that he was a pre-med major in Montana.
"I was always doodling in my notebooks," said Dobbins, "and one of my friends said, kind of hyping me, 'yeah, I was looking in Dobbins's sketchbook, and there is like this guy with a snot bubble, and inside the guy's snot bubble is another guy!'" Dobbins laughs. "It hadn't really dawned on me that that was kind of a strange thing to draw."
Dobbins explains his illustration style best: "squirrely dudes floating around." His doodle-based drawings feature strange, unrecognizable but quirky creatures, happy colors, and a playfulness. Not surprising coming from a guy who uses terms like "magical" and "a hoot" throughout his conversation.
"Wonder Fair is going to be more of a magical place," Dobbins said. "It's a bit inspired by art boutiques in San Francisco and New York.
"It's fun-loving, friendly. Good vibes. Positivity. Trying to contribute in a positive way to the local scene."
Making art accessible is important to the mission of Wonder Fair. In addition to the original (and higher priced) art on the walls will be small works on paper, zines, journals, and cards. He's even given a new home and new life to the "Wonder Box Art Vend," the cigarette machine once housed at the Social Service League. Once it's cleaned up and ready, local artists will fill it with $5-a-pop works.
As for his own art, there's no doubt the business of business will get in the way for a while.
"The postcard for the show is the first thing in the studio I've done since January," said Dobbins. "But it feels just about right. I'm happy. I'm still kind of working in my head, paying attention to what's out there. Being influenced and inspired."
For now, getting the Wonder Fair off the ground is priority. He's feeding off the energy he's felt-at school, with his cohorts, among the Fresh Produce Collective, happenings he's come upon by accident-and channeling it into what will ultimately work for him.
"I'm opening this space hoping it will be a place to rally. All the local gunslingers," Dobbins jokes. "There are so many creative folks, it will be a good place to congregate and work together." »