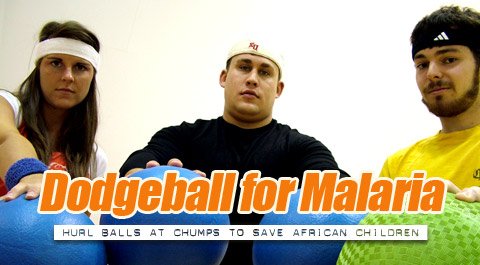 Dodgeball for malaria. How do ya like the ring of that?
Relive the glory days of your youth, or, if your gym teacher wasn't old school enough to make you play dodgeball, taste the quintessential gym class sport you were denied. And help buy mosquito nets to slow the spread of malaria, which infects 500 million people a year and kills someone every 30 seconds.
A KU communications class, "COMS 342: Problem Solving in Teams & Groups," came up with the idea after their instructor made them dedicate an entire semester to staging a big event for charity.
LaChrystal Ricke, the graduate teaching assistant in question, had tried to prod students to do this in the past. "I gave them the option to do community service," she says. "Of course, everybody picked the easier project."
In this semester, her fifth and final teaching the class, she decided to make them. The 32-student class spent hours inside and outside of class working on the mission.
Past Event
Saturday, April 26, 2008, noon
Kansas University, Kansas University, Lawrence
All ages / $36
Many proposed a benefit for a local organization like Jubilee Cafe. Chase Weideman and some others in the class said, no, screw local organizations (those may not have been his exact words). "The first thing we decided was, if we're gonna go, we're gonna go big," Weideman says. "So we wanted to do an international campaign."
After nailing down their idea-a dodgeball tournament followed by a party at Abe & Jake's roughly coinciding with World Malaria Day-they broke into committees. The PR committee, advertising, event planning, sales, the guy who takes care of finance, the dodgeball committee. It was a big pain in the ass, the kind of thing people call a "deeply rewarding experience."
Past Event
Saturday, April 26, 2008, 9 p.m. to 2 a.m.
Abe & Jake's Landing, 8 E. Sixth, Lawrence
18+ / $5 - $7
They got the Bill & Melinda Gates Foundation to match every dollar raised. They got Coca-Cola to provide Powerade and bottled water at the tournament. They solicited donations from local donations for a raffle. They got Abe & Jake's to donate the $5 cover to charity, got local bands to play for free, and got a local artist to make a painting while the bands are playing that will be auctioned at White Chocolate.
The campaign they chose to support is Nothing But Nets, which supplies insecticide-treated bed nets to people in areas where malaria is rampant. The campaign says $10 buys a net that can last four years and can reduce the spread of malaria in that household by 90 percent.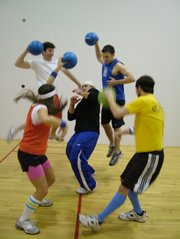 Kongwenebime Ndikum Moffor, a KU sophomore, contracted Malaria when he was living in Cameroon at the age of 7 or 8. Luckily, his mother was in medical school at the time and recognized the symptoms-fever, vomiting, dehydration-early on.
"When someone gets a fever or something, it's usually ignored, and kids can die from it so fast," says Moffor, who might speak about the disease at Abe & Jake's (details are still being ironed out). "If you don't get them to the hospital within a couple days, they might die."
His family could afford the medicine to treat it. But many can't. Long-sleeved clothing and nets around their beds help greatly. Moffor says his relatives in Cameroon do this (he came to the United States with family at the age of 9).
On hot nights when people sleep with their windows open, mosquitoes "can just feast on you," he says, unless you have a net.
"It's something people deal with every day," he says. "All year round, it's a problem. What would I compare it to here? Maybe the flu. But it kills people." »