Seth Michael Wiese, doorman/soundman/janitor/construction worker (kind of); enjoys Jesus, music and beer; recently had a spell of unpleasantness involving untoward gentlemen and his head bouncing off a concrete planter
How Do You Save Money?
"In an envelope in my show box. If I get a check, I cash it and put it in the shoe box. I have a checking account, but it's strictly for emergencies. Like when I go out and have no money. My box money is general savings. It's savings for everything from your birthday, to my birthday, to hopefully getting rid of my glasses by having lasers pointed at my eyes. I had done a really great job at saving money for medical expenses by not having medical expenses for a good 25 years of my life. Recently there's been no savings for medical expenses. I've been blessed by lots of friends donating a decent amount of money."
You can make donations through www.myspace.com/benefitseth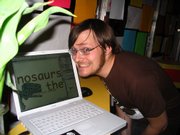 What Do You Splurge On?
"Love Garden steals my money-lots and lots of wax. I've gone from moving to this town with four records to, last count, somewhere over 300. I'm just an addict. I've also been splurging on three CT scans, three stitches, a broken nose, and about 30 hours in ICU at KU Med, which is lots of fun. The food is awesome. Rock Chalk!"