Megs Josephson
Age: 24
Sign: Sagittarius
Hometown: Hutchinson
Time in Lawrence: 5 years
Occupation: Hair stylist
What were you doing when scouted? Enjoying my day off at the Pig.
What are your favorite stores? The Antique Mall, Love Garden, The Casbah Market and that eco-friendly gas station on 9th and Iowa.
How often do you go shopping each month? Probably at least once a week. I'm a big eBay fan, and I like to frequent thrift stores throughout the area.
How would you describe your style? '60s socialite meets Ziggy Stardust.
Where do you get your hair cut? Well, I work at Headmasters... so usually whoever has a pair of scissors and is willing.
What's your favorite trend in fashion? For hair, I like '50's clean cut hair styles for men and classic Vidal Sassoon bobs for women. For clothing, I like rompers and shorts with boots, suspenders, and I think high-waisted is good. I like clean lines and basic pieces with tons of chains and bold accessories. I think androgyny is good too.
Photo Gallery
Style Scout: Megs Josephson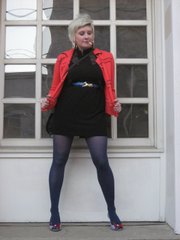 Least favorite trends? People not dressing up, acrylics, and I'm over the scarf thing. Also, people talking on cell phones all the time.
Tattoos/piercings? I have a picture of wheat on my wrist for my mom, a pair of scissors and a barber pole on my other wrist for my dad, a crying robot on my upper arm, a pinup girl on my forearm, my mom's maiden name, Dean, on my arm, a Martin Luther King dove on my arm, the Kansas seal on my arm, a John Wayne portrait on my leg, and a dandelion on the back of my neck.
Favorite coffee shop? La Prima Tazza's iced Snow Tiger is a little bit of heaven.
Favorite bars? I like the Pig for hanging out and talking with friends, Teller's and the Star Bar are good. I like the Tap Room for DJs and dancing, and the Replay and Jackpot for shows.
What would you like to see more of in Lawrence? Smokers. More passion for Lawrence...definitely more Lawrence pride. I want to see more diversity in styles and perspectives downtown.
What would you like to see less of? I don't like the smoking ban. I want to see less of the 'too cool for school' attitudes, and pointy-toe high heels.
Who are your fashion influences? I really like the style of Parker Posey, she's amazing. Zooey Deschanel, Chloe Sevigny...they're edgy. I like Marc Jacobs' ready-to-wear line. Nylon and W magazine are big influences.
Tell us a secret: I still sleep with a blankie that I've had my whole life.