Oliver Hall
Age: 36
Sign: Libra
Hometown: Lyons
Time in Lawrence: 12 years
Occupation: Independent producer/director of documentaries
What were you doing when scouted? Working on a documentary about Stan Herd's recycled art.
What are your favorite stores? I try and spend all of my money locally. I usually visit the Dusty Bookshelf at least three times a day, and my all-time favorite place is AB's Crepes. I also like Checkers, Zen Zero and the Mad Greek.
How often do you go shopping each month? I don't really go shopping much. I wear the same old clothes all the time. I try and take good care of my clothes.
How would you describe your style? Retro Modern.
Where do you get your hair cut? Cutter's Edge, which is by Pyramid Pizza on 9th Street.
What's your favorite trend in fashion? I love nice-fitting pants on women, and high heels and socks together. I love when women wear boots... those are smokin.' They look really hot.
Photo Gallery
Style Scout: Oliver Hall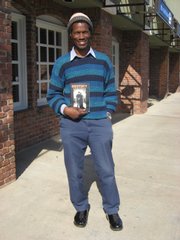 Least favorite trends? For guys, the gangster baggy pants and big chains looks so bad. Just let it go. Most women tend to look nice most of the time.
Favorite coffee shop? I like Z's during the day, the Pig at night, and I like La Prima Tazza as well if I'm down around there.
Favorite bar? The Tap Room, of course. They have good DJs. I go to NEON at the Bottleneck, and occasionally I'll go to the Jackpot.
What would you like to see more of in Lawrence? I want to see more locally owned businesses and more support for different types of music.
What would you like to see less of? Less corporate stores downtown and less bad driving. I'm usually too busy to dislike a lot of things.
Who are your fashion influences? Robert Palmer had great style and a vibrant personality and stage presence. Marvin Gaye was elegant and cool. James Brown. Al Green always looked good.
Tell us a secret: I've made really embarrassing films. You can look them up on the internet if you want to. What can I say, everybody makes mistakes.