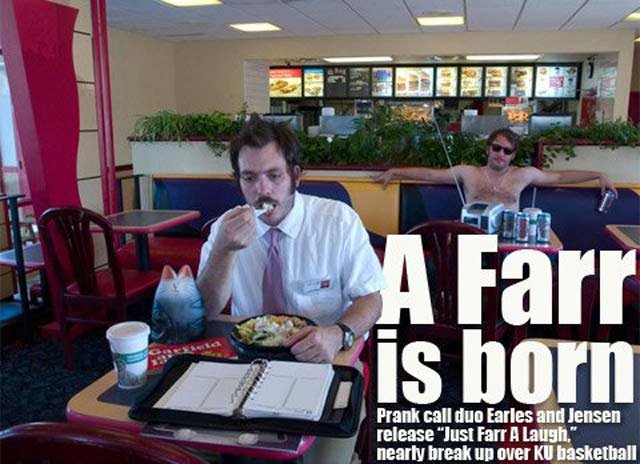 A 250-pound dwarf named Bleachy and '70s soft rock pioneer Christopher "F*cking" Cross are on the line for you. Well, not really-your life isn't that exciting-but you can simulate the experience with "Just Farr A Laugh Vol. 1 & 2: The Greatest Prank Phone Calls Ever!" The collection is a reissue of long out-of-print punkings, along with an album of all new material, by Andrew Earles and Jeff Jensen-Jensen being a former Kansas City resident and current KU "star f*cker." "Just Farr A Laugh" is less about humiliating the poor recipients of the calls and more about creating a sadly believable alternate reality where Morris Day really wants to party at Coyote Ugly and a man who goes by "Ditchweed" is positive that a PT Cruiser will solve his mid-life crisis. Jeff Jensen joined us by theme-appropriate phone in Brooklyn while making his friend some nachos.
Podcast episode
A 250-pound dwarf named Bleachy and '70s soft rock pioneer Christopher "F*cking" Cross are on the line for you. Well, not really-your life isn't that exciting-but you can simulate the experience with "Just Farr A Laugh Vol. 1 & 2: The Greatest Prank Phone Calls Ever!" The collection is a ...
lawrence.com: Thanks for joining us today.
Jensen: Hey, no problem, man-your nachos are done, Ted. Oh, I'm making some nachos for my friend that's here.
That's very generous of you. If you're not too embarrassed to talk about it, what are your ties to Kansas?
I ran for governor of Kansas in 1984, doing a Jello Biafra sort of thing when he ran for mayor of San Francisco-I was only 12 at the time. I really tried to activate a lot of the skinheads at the Outhouse to get behind me. That kind of backfired, honestly-I was hospitalized for a year and a half after that. Then I was sent to military school in Salina.
Audio clips
Just Farr A Laugh Vol. 1 & 2: The Greatest Prank Phone Calls Ever!
Potato Mountain, the now-defunct mashed potatoes-only restaurant here in Lawrence that you've done a prank call about-did you ever eat there or were you just befuddled by its very existence?
I didn't have the pleasure of eating there, although I hear the Mt. Fuji was a true delicacy. That was the one that had mashed potatoes with lo mein slathered on top. Jeremy Sidener, who you may know from his work in Clown Clown and Butt Cheese-those are real bands, by the way, I'm not even lying about that-turned me on to it. He's a real diamond in the rough there in Lawrence when it comes to being a discriminating gourmand. I always thought Lawrence was a goldmine for nonexistent restaurants. I love Lawrence. I grew up in Overland Park and my father was an alumni of the University of Kansas and would drag me to go see the football team lose every weekend. Those are my first memories of Lawrence.
Unfortunately, they're good now, so that kind of sullies your fond childhood memories of them constantly losing.
I know. Actually, I would think that would be another reason for new restaurants to be in demand, given the girth of the football coach. It seems like that would require thousands of pounds of meat. I'm sure that's probably going to be his legacy-a steakhouse-meets-Putsch's Cafeteria hybrid.
How did you and Andrew Earles hook up? Not like getting bombed on Boone's Farm and making out in the backseat or anything, but how did you team up and why was prank calling your artistic media of choice?
I was in a band called The Special Moments, where I recorded under the pseudonym of Reg Lumley, a character who was allegedly based out of North London. We released an EP in 1997 called "Songs of Whimsey," which is a favorite of 12 or 13 people that may or may not still be alive-one of whom was Lawrence's Kliph Scurlock, of the Flaming Lips. That record found its way to Memphis, where Andy bought it and thought it was funny. I came to town to visit a mutual friend, met Andy, and he gave me a few cassette tapes of his phone calls as well as a copy of Cimarron Weekend, his really hilarious zine-remember those? I thought his calls were really funny, and we started communicating via the United States Postal Service-also something people may remember. On a later trip to Memphis, I stayed with Andy and we decided to make a few prank calls together. I'd always sort of f*cked around doing them myself, so it just happened naturally. We recorded a handful of them and decided we should release something ourselves. That was the genesis of what became "Just Farr A Laugh," the first collection of calls that we put out on Andy's little micro-label, Failed Pilot, sometime around 2001. That comprises Disc 1 of the current collection that Matador Records is inexplicably releasing. How we convinced them is still baffling to me. Apparently somebody over there thinks they have a real money maker on their hands, which has yet to be determined. I'm not being self deprecating just to seem cool-I really have a hard time believing that we'll ignite the public's imagination. The thing that distinguishes us from the pack of other prank phone callers out there is that this release comes with a pretty impenetrable 60-page booklet of liner notes, where we just pontificate and lie about the origins of the phone calls, that just goes on and on. I don't think a man trapped in prison would have the patience for it, but we'll see.
Are you ever concerned that you'll come off as mean-spirited in any of the calls?
To be perfectly honest, that is a real concern. We have attempted to exercise and stay true to a strict "No Cruelty" policy. At the same time, I can understand why certain people that are being called or lampooned or impersonated could take offense to a few of the things here or there. I felt particularly guilty about one of the calls off of the new album where we call a popular barbeque restaurant in Overland Park called Hayward's Pit. The concept of the call was that I was calling as Ed Asner's personal assistant, claiming that he was really appalled that his photograph was on the same wall as the San Diego Chicken. We had the actual owner, Mr. Hayward Spears, really going and believing that Ed had lost his mind. I felt so bad about confusing Hayward that I forced Andy to call back as Ed Asner to apologize. I want to apologize to Hayward if he's reading this-I've enjoyed your burnt ends for decades now. We're fish in a barrel when it comes to litigation.
Which characters are you responsible for? Bleachy? Ditchweed? Christopher Cross?
Those are three of them. I'm also the guy that calls about the yogurt machine, Blaine Washington. God, there's like 60 calls on here, everybody-it's a packed and incredibly dense stockade of calls. I do about half of them, but I am Bleachy, who's our most frequent character.
He's kind of like your mascot, your own San Diego Chicken.
Kind of, except he's not as tall or covered in feathers. The funny thing about Bleachy, in all seriousness, is that he was inspired by a real person named Bleachy in Memphis. We were trying to call middle-aged black women-and this was a terrible concept that quickly became apparent as too creepy and wrong-asking them if they'd join me for an afternoon drive. I was trying to get a date as this lame Barry White kind of loser, soliciting women's company, and I was looking through the phone book for names that would potentially fit this demographic. I ran across this name, "Bleachy Washington." It was a very old lady, but then my imagination went wild and I envisioned the character as someone completely different-kind of a burger-devouring, cute little rolly polly bowling ball of a man child. Some higher power took control.
Since Andrew Earles is a proud Memphis resident, is it true that the NCAA championship almost ruined your relationship?
Yes it is. It's kind of an odd story, actually-it's not what you think. Obviously the Jayhawks beat Memphis, which elated all of Jayhawk nation, but it's a stranger story than you might imagine. I had Sasha Kaun's telephone number and I called Sasha many times as Bleachy. They developed a very unusual relationship, the two of them. It's a little-known fact, but Bleachy was actually helping Sasha with a lot of his post moves and giving him advice on blocking out and rebounding. Andy kind of accused me of, pardon my French, being a "star f*cker." It was really that which created the problem and not really the Memphis/Kansas climax at the end of the tournament. He was really just jealous of the relationship I had with Sasha Kaun. The whole thing is complex and maybe a little disturbing. Luckily, we worked it out and we are not broken up. For the Kansas basketball fans out there, when I lived in Kansas-because my dad worked closely with the Athletic Department-I could always get the telephone numbers of all the Kansas basketball players. There are some incredible unreleased calls going back as far at the Ted Owens era-calls with T.J. Pugh, Ron Kellogg, Mark Turgeon. Just an incredible backlog of prank telephone calls to former Kansas basketball players that would amaze a lot of fans.
Will these ever come out of the vault?
I don't know. A lot of people at the time speculated that Larry Brown had left the university because I was tormenting him. As a result, my family and I and our legal team have decided to keep these under wraps. We're kind of waiting-can I be frank?-for Larry Brown to die. Rock chalk Jayhawk! »
More like this story on Lawrence.com