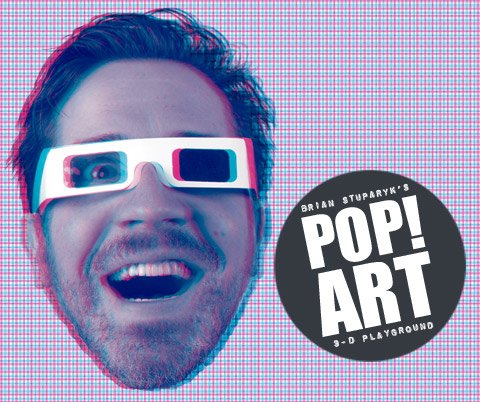 Some folks say Brian Stuparyk grabs life by the horns.
He'll approach any stranger and introduce himself. Before you know it, said stranger is elbow-deep in a conversation spanning three countries, historical trends in art production, and the symbolic ennui of, say, a smashed-up cigarette butt. For instance.
The conversation is littered with tangential introductions like, "I spent the last two summers rebuilding a car." Or: "So I bought this letterpress..." At one point he said, "It's sort of Wagnerian-like-it could end well, but that's no fun:"
He's Canadian so it's perhaps not surprising to learn that he plays hockey. He speaks three languages ("now I'm passable"), plays mandolin, and is a photographer. In fact, he was an undergraduate in photography when he stayed up all night to teach himself how to screen print at his kitchen table. He's been a printmaker ever since.
"Screen printing, that's my thing. I love it," Stuparyk says. He's enthusiastic. Traditional printmakers often will sneer at screen printing, Stuparyk explains; the pressure involved in lithographs or etchings, for example, forces the ink into the stratus of the paper. With screen printing, the ink stays on top.
"But I like that, I like how thick it is on there," he says. "It's so vibrant. It's like buttering toast. Screen printing is definitely my favorite."
Stuparyk has taken this interest and his inherent gumption to tackle another puzzle: 3-D printing. The result of days upon weeks of wearing 3-D glasses while he pondered the theories and figured out the mechanics of 3-D will culminate in his upcoming show, It Happened in Lawrence, Kansas, opening May 4 at the Bourgeois Pig.
In Stuparykian style, he didn't bother looking for a tutorial: "That's time I could spend figuring it out," he explains. "If I looked at them, then I would be doing them their way, instead of doing it my way."
Videos
3-D printmaking with Brian Stuparyk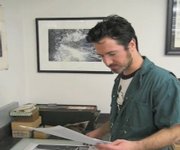 Brian Stuparyk demonstrates the art <br /> of 3-D printmaking in these step-by-step <br /> video tutorials. Video by Leslie vonHolten.
And then he says what is clearly his mantra: "Anything in life, you gotta learn how to do it-then you gotta learn how you do it." Stuparyk says this a lot. He believes in it.
Stuparyk vs. The World
Stuparyk is the current printmaking resident at the Lawrence Arts Center. In its second year, that LAC residency provides an emerging artist the opportunity to work in a well-equipped studio and exposure to the dynamics of working and teaching. During their one-year tenure (there is also a ceramics residency), these artists-in-residence are charged with teaching one course per semester, maintaining the studio, and producing a body of work for exhibition.
"Brian is a great example of the type of resident I had in mind," said Ben Ahlvers, the LAC assistant education director who recruits candidates for both residency programs. "His work ethic is very strong and his enthusiasm is contagious. He was working in the shop within a couple days of his arrival."
Past Event
Sunday, May 4, 2008, 7 p.m. to 9 p.m.
Bourgeois Pig, 6 E. Ninth, Lawrence
All ages / Free
Work ethic and enthusiasm are personality traits Stuparyk is conscious of. "It's a cliche," he said, "but it's easy to see that the people who really get places are the ones who aren't just sitting there talking about it, but the ones who just put their heads down and get to work.
"My father has that quality, and I really admire him for it. He's my partner in crime. We've spent a lot of time swearing at various projects like torn-down engine blocks and house renovations. That was my approach to my limited amount of time here."
Stuparyk's childhood was spent in Ontario, where he attended a French immersion school. During his 7th-grade year, his family moved to Mexico. It was not until 10th grade, in Cincinnati, that he attended school where English was the spoken language in the classroom.
After earning a photography BFA, Stuparyk did his time in the soul-crushing but character-building, postart school work world. He hung on for three months at a mall photo studio where he had to wear a beanie with a propeller and try to get 5-week-old infants to smile. He taught ceramics to high school kids, despite his lack of experience with clay. Then he decided to commit himself entirely to printmaking and enrolled in the prestigious Cranbrook Academy of Art in Bloomfield Hills, Mich., outside Detroit. From there, it was the LAC residency and Lawrence, Kan.
He dove into the Lawrence arts scene within days of arriving. Since last August, Stuparyk has exhibited with the Fresh Produce Collective, 6 Gallery, Wonder Fair, and Art Affair in Baldwin. He's pressed buttons for Blue Collar Press. He's printed posters for the Seem-To-Be Players, KPR 91.5 FM, and EMU Theatre. And he's done several illustrations for this fine rag.
At the end of his residency, Stuparyk will have a final exhibition in tandem with ceramics resident Jen Holt at the LAC. The iconography will again focus on Lawrence: images of a Bourgeois Pig matchbook, $2 parking tickets-items unique to this Kansas town.
"He's a good example of an artist who understands that he has to create opportunities for himself and for his artwork to be seen," said Ahlvers. "The show he's working on now is an example of how he has taken advantage of living in Lawrence."
2-D to 3-D via the B-movie
Of course Stuparyk would set out to crack the code on 3-D: he geeks out on process.
"I sat down and thought about how this works," he said, explaining his plan of attack after deciding just last month that his Pig show would be 3-D prints. "You see one image out of one eye and another image out of the other. So if I'm looking at this coffee cup," he explains, pointing to opposite sides of the cup and delineating the visual line to it with his finger. "I'm seeing this side out of this eye, and out of this eye I'm not seeing that. It's a totally different picture." He gets intensely focused when he explains this.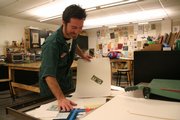 "I sat down and started playing with it in Photoshop. I drew myself a little diagram to help figure it out."
Once he teased out the visual basics, he went into a three-week period when he wore the 3-D glasses nearly constantly while doing mock-ups. "I became a little obsessed with it. I put on the glasses, sat there and tried to figure it all out. I saw that the background is two separate pictures."
The prints of It Happened in Lawrence, Kansas turn the town into a B-movie horror set: a gigantic praying mantis hovers over the Carnegie Building; flying saucers beam people up from Mass. Street; the men's toilet sits agape at the Replay. The next step in the process, then, was to take pictures of significant, recognizable Lawrence landmarks to manipulate in the studio.
"I took a picture, then took a step to the right and took another picture. It's two separate pictures," he said. In other words, making the image 3-D is more than moving the screen a little to your left to lay down the cyan ink: the image is actually all its own.
Turns out, however, that grasping the theory isn't the biggest hurdle. "Once you have it all figured out, how to make the image 3-D on a 2-D plane, then you have to go down to the shop and match the ink to the glasses," Stuparyk laughs. It's a maddening process. The red lens lets in less light than the blue, and each ink company has a variation in their colors. These being primary colors, mixing is nuanced to say the least. He could have used a green ink instead-easier to mix-but he would have needed red and green 3-D glasses. He wanted to stick to the iconic red and blue.
Photo Gallery
Pop! Art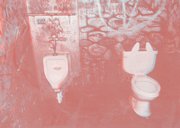 Stranger than Fiction
The idea for It Happened in Lawrence, Kansas was one of those perfect epiphanies: style, imagery, and theme all came to Stuparyk at once.
"When I was an undergrad, I saw a Three Stooges short that was shot for 3-D, but wasn't in 3-D. It was just all these really strange camera angles and all these strange set-ups. Like someone was going to get injected with a needle, and the shot would be the guy coming at you with the needle. It was really weird," he said.
"I thought about all these strange set-ups, about how even when it's not in 3-D it's still really sort of different. And still really hokey. Something's wrong with it." The quirkiness, the B-movie qualities of 3-D movies was a perfect commentary on the uniqueness of Lawrence.
"There's something about this town that is, I don't want to say 'too nice,' but it's kind of ideal. It's also the kind of place, though, where you could easily have killed someone and then you'd move here to start a new life and you could really fly under the radar. There's just something strange about this town. Maybe there's something just under the surface that no one talks about. I thought about that. What if it did happen in Lawrence, Kansas?"
Although some things aren't necessarily existing under the surface.
"I thought, what is the worst atrocity in Lawrence? The best I could come up with is the Replay bathroom," he says, laughing. "It's really funny, because it's the one print that really disgusts people."
Past Event
Friday, June 27, 2008, 7 p.m.
Lawrence Arts Center, 940 New Hampshire St., Lawrence
All ages / Free
Note to Replay bartenders: take the jab in the spirit it was intended. "Don't get me wrong, that's my bar," Stuparyk says affectionately. Think of it as tough love.
All good things must come to an end, and Stuparyk's tenure at the LAC is up in August. He doesn't have a concrete plan in place, but given his personality, the world is wide open.
"This show is kind of the beginning of the end of what I'm doing here," he said. "I've had my experiences, now what have I learned? That's sort of why I'm doing these two Lawrence-centric shows. It also helps me to understand how I feel about this place.
"That's why I make all my art. To help me understand the world in another way." »