Hilary Carlson
Age: 21
Sign: Scorpio
Hometown: Prairie Village
Time in Lawrence: 2 years
Occupation: Student/nanny
What were you doing when scouted? Coming to get a Bloody Mary at the Pig.
What are your favorite stores? Wild Territory, The Casbah Market, ATC.
How often do you go shopping each month? Two or three times a month, sometimes more and sometimes less.
How would you describe your style? Grandma's Closet/Mermaid Princess.
Where do you get your hair cut? When I want a fancy haircut, I go to Wes at Headmasters. Usually, I'll have my friend Hannah cut it when we're both drunk. She's in hair school.
What's your favorite trend in fashion? I like dresses right now and tons of jewelry. I like guys in tight pants and guys in whitey tighties.
Photo Gallery
Style Scout: Hilary Carlson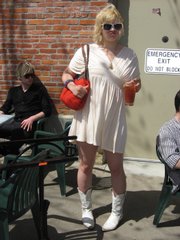 Least favorite trends? Baggy pants for guys, and guys wearing scarves all of the time. I also don't like cargo pants. KU apparel, of course. I really hate gaucho pants; they're stupid. I'd like to see less jean skirts, Forever 21, and Kieu's.
Tattoos/piercings? I have a tattoo on my back of three stars. I want to cover it up and get a tattoo of basil and tomatoes.
Favorite coffee shop? I always go to Z's on 23rd on my way to work because they have a drive-through and their staff is so friendly and chipper. I like the Pig's hazlenut coffee.
Favorite bar? Tap Room, Replay obviously. The Jackpot is good because all of my friends can get in there.
What would you like to see more of in Lawrence? More people walking their cats on leashes. More people biking, walking, jumping rope. More Happy Hours. Definitely more people walking around with boom-boxes.
What would you like to see less of? Less people I went to high school with, less party buses and less plastic bags. I want to see less name-brand dropping and West Lawrencians.
Who are your fashion influences? Barrett Emke, photographer. Derek Solsberg, drummer. Maggie Gyllenhaal, Jerri Blank, M.I.A., and Lil Wayne.
Tell us a secret: My cat Morgot is my spiritual advisor. I like to dress her up and take pictures of her with my phone. One of these days I really want to walk her on a leash.