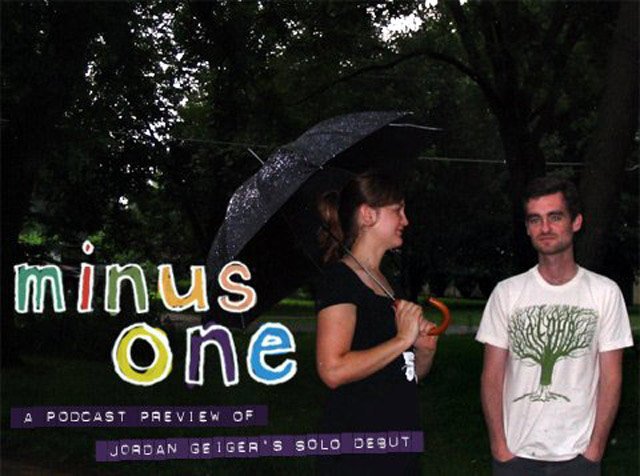 We've come to know Jordan Geiger as the head of Minus Story, one of Lawrence's longer-running musical institutions. As that band has one-by-one scattered throughout the country (though musically remaining together) over the last couple of years, Geiger has had more of an opportunity to hone his solo material, which has come to be known under the moniker Hospital Ships.
Not satisfied to leave it at that, Geiger has of late become a touring member of Austin's Shearwater, which has relentlessly toured in support of its new album, "Rook." Late last month Shearwater had the unexpected, exciting opportunity to open on four massive shows for a little band no one's ever heard of, Coldplay.
During one of his few breaks in his tour schedule, Geiger invited us (and Spencer Goertz-Geffen) to stop by to learn more about his upcoming solo album, touring with Shearwater and to listen to a few live tunes (available for download in this story online.)
Live on lawrence.com: Hospital Ships mp3s
No-fi transcript of the podcast
lawrence.com: Is Hospital Ships at official band status?
Geiger: Well, I think it's basically everything that I do that's not Minus Story. If I play by myself or with a sort of revolving lineup it'll be Hospital Ships. Also, I wrote all of these songs and recorded this album before I had a band name and I didn't want it to just be called Jordan Geiger because I don't think I really like when people just go by their names. Except for maybe Bob Dylan, I guess-it wouldn't be the same if he had a band name. I have a somewhat stable lineup of people that I want to play with.
How did you bring this group together? Is it a bunch of your friends?
Geiger: More or less. I kind of just chose people based on if they were really nice and if I wanted to hang out with them. I think it's really important a lot of bands, even if they're really great, don't have the best personal relations.
Where did the name come from?
Geiger: I have always had a minor obsession with nautical themes, probably because I'd never gone to the ocean until I was 22 or 23. It always seemed like a dreamy fantasy land, kind of like being in a band. Mike Watt has a great album about that.
Goertz-Geffen: You mentioned something about the Flaming Lips.
Geiger: Oh, duh. The Abandoned Hospital Ship off of "The Clouds Taste Metallic", one of my favorite albums of all time. The Flaming Lips are one of the best bands ever. I feel really good paying tribute to that.
Ramona is your kitty - and the album's name is Oh, Ramona. Did she jump up on the piano?
Geiger: Yeah, she makes a couple of appearances on the album. She meows on "Baby for J" which is the second track, and "The Shots I Drank" which is the fourth track. I think she gets confused when I have a bunch of mics set up and I'm just sitting silently by the piano with headphones on.
I've been lucky to listen to the album some of the songs are pretty familiar. Are these songs written over a longer period of time?
Geiger: I started recording them in maybe 2006 or 2005.
Did I see [producer] John Congleton was involved?
Geiger: He mixed all of it. I consider his influence second only to the fact that I played all of the instruments. I've had these songs forever and really was kind of bored with them, though I did want to put them out. John is really enthusiastic and took the time to start by mixing four songs and they just sounded so hi-fi and it just sounds better. He pumped my voice up which I would have never done. He makes it sound more like a full performance than just things pieced together.
Do you know whether a song will be a Minus Story song or a Hospital Ships song?
Geiger: Yeah. Generally all of these songs are more personal to me and the Minus Story songs are a little more removed from that. And Minus Story songs we have always taken really simple songs and have tried to do interesting or weird things with them. This is more about really enjoying playing a simple song and enjoying the sentiment behind that.
You've been touring with Shearwater for week and months. How did that get started and how has that been?
Geiger: It's been awesome, I feel like I have sort of won the lottery. I think I've only been home for two weeks in the last two months. Minus Story toured with Shearwater a couple of times as well as Okkervil River. We've just been friends for five or six years. I recorded demos with them at some point there is a lot of trumpet on the record and when they decided to go on tour they were looking for a fifth member. We played with Clinic which is a dream come true, as well as Frog Eyes and the Evangelicals.
I see that Shearwater is going to be opening for Coldplay.
Geiger: Spencer and my mom are flying out for one of the shows. It's going to be a weird experience but I'm sure it's going to be awesome. We feel extremely fortunate. We're playing at the MGM Grand in Las Vegas and two nights at the Forum in Los Angeles. We have a few days after that before another show in Portland so we plan on hitting up some National Parks.
Is it easier to play other peoples' music or your own?
It's a lot harder [to play others' music]. I only feel comfortable onstage hiding behind a keyboard or guitar. In Shearwater I stand up and play the trumpet. I played in high school for a long time and with Old Canes, but it's not my main instrument and I get a lot more nervous for those shows than my own. The trumpet is a cruel mistress. If you're not confident you will mess up. It takes a lot of concentration to play in tune. Oftentimes that doesn't happen.
Goertz-Geffen: And in huge stadiums with Coldplay:
More like this story on Lawrence.com