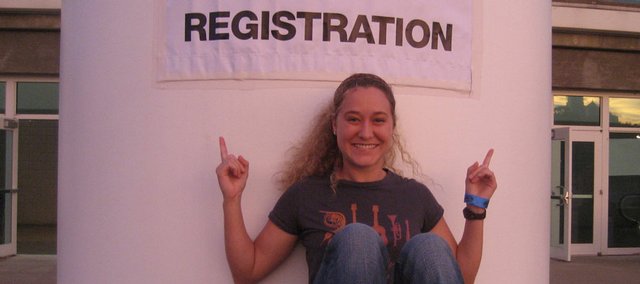 When David Cook won this year's "American Idol," much national attention was brought to his hometown: Kansas City.
Consequently, the "Idol" juggernaut decided to select KC for the first time as one of its eight audition sites.
Last Friday, thousands of wannabe stars filed into venerable Kemper Arena (not the new Sprint Center, since "Idol" is sponsored by AT&T;) seeking their instant ticket to stardom.
The Journal-World previously asked readers to post video auditions on the paper's YouTube site, and based on these entries decided to feature three Lawrence singers who best had a chance at moving on to the next level:
¢ Kalie Harris, 22, a dental hygienist who works in Gardner.
¢ Amber Medlen, 24, a Montessori preschool teacher and mom.
¢ Dylan Guthrie, 17, a junior at Free State High School who is a member of the school's chorale program.
Here are the singers' experiences, told in their own words.
Preparation
(Note: Contestants first had to arrive at Kemper in person within two days prior to the audition to register and receive a wristband.)
Harris: "After reading some of the rules (on Thursday) I found that I was going to have to go buy Saran wrap to cover my wrist band so I could take a shower. I also had to learn the words to two songs for 'crowd songs' for tomorrow. They are 'Signed, Sealed, Delivered I'm Yours' by Stevie Wonder (which I'd heard of), and 'Get Ready' by The Temptations (which I'd heard of but didn't really know). After I got home it was back to bed for me, and I actually had a dream about being in Kemper Arena - but I was in a pirate show. Weird!"
Arrival
Medlen: "After having to race back home because I forgot my ticket and ID - waking up at 2 a.m., I was not as alert as usual - I ended up being in the very back of the line. I did make it in time to experience some camera shots they were filming for promos. ... Screaming 'Kansas City Rocks!' - it was exhilarating to be apart of all the hype. As I anxiously awaited the doors to open I made some wonderful line buddies, like a girl named B all the way from Chicago. I got a chance to brag about Lawrence as we chatted over all the talented voices singing for cameras and just pacing with excitement to have their chance to be 'The next American Idol.'"
Harris: "I woke up at 3:44 a.m. The first thing I did was make sure my hair looked good because I showered the night before because I have curly hair and I didn't want to have to wake up any earlier than I needed to. After being up for five minutes, my electricity went out so I had to get ready by computer light and two candles. I knew that wasn't a good way to start off the day. Traffic was horrible until several motorcycle police started directing traffic. Once I finally found a spot I got into line and sat down and waited for about three hours while we all talked and did video shots for 'American Idol.' I got on several pass-by shots and then I stood next to a girl from Gardner as she held a sign and we yelled, '"American Idol" needs a KANSAS girl!'"
Spectacle
Guthrie: "After finally reaching the innards of the stadium, contestants were made to participate in crowd singalongs and odd group chants, which they were filming for future use on the show. Some of the filming included (host) Ryan Seacrest, whose arrival halted the auditions for about two hours. My favorite chant was 'Kansas City Style!' - of which I am still unclear as to its meaning."
Harris: "I knew coming into this that my chances were very slim since there were supposed to be around 15,000 people and that they only took the amazing 'Celine Dion' singers or the 'William Hung' singers. So being just a normal, average singer, it didn't look good."
Audition
Guthrie: "The preliminary audition process was a 30-second vocal crapshoot, performed in front of one of 12 pairs of judges. From what I could see it appeared that carrying bongo drums, being dressed like a hippie or having a guitar slung around your back while singing increased your chances a great deal. Otherwise, you were 'not quite what they were looking for.'"
Harris: "When it was finally my turn it was pretty much at the end of it, and there were very few 'golden tickets' being handed out. I was placed in a group of four and we walked up to the judge, which is one or two producers of the show. She said OK and I started to sing. I sang for about 30 seconds and then she said, OK.' The next three girls only got about 10 seconds, so I guess that was my accomplishment of the day. I sang 'Ain't No Mountain High Enough,' and my backup song was going to be 'I'll Fly Away' if they asked me to sing it, which wasn't needed. She had all four of us come up to the table and she said, 'It's been a long day. Thanks for trying out, but you all may leave now.' So I got to my car and left for home."
Medlen: "When they called my row to line up, my heart was pounding out of my chest! One of the girls lined up next to me asked if I could see her heart pounding. The time had finally come. ... I introduced myself with excitement! 'Hello, I am Amber Medlen. I am going to sing "The Power of Love" by Celine Dion!' I sang my heart out and belted out the song. ... As I stepped back the other girls sang next to me, and each girl rocked it! They were fierce competition. Then the judges called us all up and said, 'Thank you ladies for coming out here. We appreciate your time, and you fans make the show, but we are sorry to say you are not what we are looking for.' ... I slowly walked to the guy with the scissors to let him snip my 'American Idol' bracelet I so proudly wore for two days. In just seconds my dream was gone. ... Hot tears rolled down my face. I tried to walk out with a smile knowing that I had a great time. My hope was gone; the excitement was over. I was so tired from all the emotions I felt that day."
Aftermath
Harris: "This was a great experience and I don't regret doing it, but I would never do it again because it's a joke. It doesn't matter how good you are because even the best don't make it. It was a long, boring day of sitting in my seat listening to other singers. But I'll be excited to see if I'm in any of the 'American Idol' shows, and to see some of the people from the KC tryouts on TV."
Medlen: "I am very grateful to experience the whole American Idol process and had a blast I made many friends through it. It was a long and tiring day but I do not regret going to try out. ... My kids at work love my voice and so does my family. So I am not the next American Idol - I will still keeping singing my heart out. Nothing will ever stop that!"
Guthrie: "It was definitely a once in a lifetime experience. And I think I will leave it at that - a ONCE in a lifetime experience."