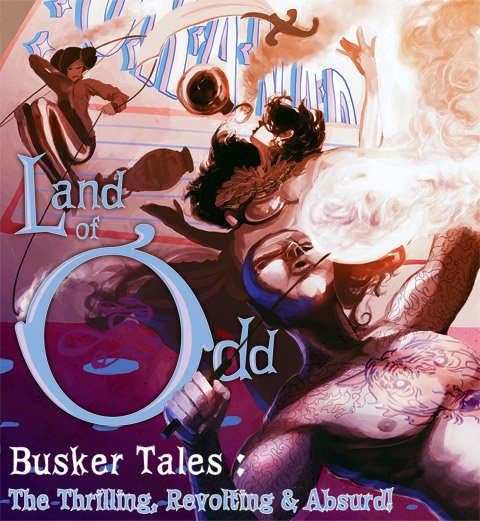 ":blowing big fireballs while unicycling, and stuff like that."
When asked the standard question, "what is it that you do?" there are very few people who, like Trenten Coy Espinoza, a performer from Kansas City with gauged ears and scars branded into both arms, would be able to say this in your standard, matter-of-fact tone.
The first Lawrence Busker Festival, the brainchild of Richard Renner, a professional clown from here with lots connections among sword swallowers, jugglers, fire breathers, a man who catches a bowling ball on his head while wearing a straitjacket, the man who owns the Guinness World Record for extinguishing the most flaming torches in his mouth in one minute (42), etc., is bringing more than a dozen of these acts-all, strangely enough, from nearby-downtown this weekend.
We took advantage of a rare opportunity and met with these people to ask how the hell you swallow a sword and other such questions. Like Bob Dylan asks in one of his songs, "How does it feel to be such a freak?" Renner prefers to call them "unique people with useless skills."
¢ ¢ ¢
The Jester Rejects are twin brothers Kent and Kevin Mercer. They have traveled around the world, with the circus and on their own, to juggle and perform as clowns. They're from Independence, Mo.
Read the full Q&A; with The Jester Rejects.
The Mercer twins were in Taiwan with a circus when the generator powering everything under the tent ran out of gas. The lights went out and the crowd was on the verge of rioting. The ringmaster sent in the clowns. They were the clowns.
Kent: In a circus you run everything off a generator.
Kevin: I'd say it's about seven feet by seven feet. A box. You hear that motor going. It's run on gasoline like a car and you've got to keep it full. If it's empty, the generator shuts down, you lose your power. If the generator does shut down, because it's such a big motor, it takes a good 30 minutes to get it all fired back up again where you've got enough power to run all the lights. So it's always best to keep on top of the gas.
Well, our ringmaster was saying, "The gas is getting a little low. You guys better fill that up." They were like, "We'll handle it, we'll handle it." Sure enough, right before the last act-bam, the lights go out. The emergency lights come on. Naturally, they send in the clowns because the trapeze guys can't work and they were the last act.
Of course, the people don't know that they're only missing one act. They don't know that they've seen well over three quarters of the show. They just know all of a sudden the show's stopping and they've paid money to see a show.
We're trying to entertain them by kicking a big beach ball into the crowd and having them throw it back. That's working for a while until they finally start figuring out that the Taiwanese people outside are telling them, "You have to take a rain check. Show's over. You gotta go. We're not gonna get the power back up." Then things start getting a little hostile, so they run us out of the ring and say, "You guys better get in the back by the dressing room," which was cordoned off by a fence.
Kent: The reason it was getting hostile was because some of the audience was wanting their money back because they thought the show had been cut short on them.
Kevin: They were starting to get angry and irate. Naturally, it's dark back there where we're in our dressing room. One of the Mexican flyers says, "We'd better go get the women." So we take the women out of their dressing room, bring them all into our dressing room, and we're all standing there with two-by-fours in our hands, wondering if there's gonna to be a riot. Because you can hear them at the fence. They're banging at the fence and they're speaking in Taiwanese. We weren't sure what they were saying but it sure didn't look friendly. Fortunately, it worked out in the end and everything got all smoothed over.
Kent: They gave them their money back and everybody was happy.
Kevin: But there were some tense moments there.
¢ ¢ ¢
The Wicked Liars are Robert and Valerie Wolf. They juggle knives, do a bullwhip act, swallow swords, play with fire and a lot of other things. Valerie can move a double-edged razorblade around in her mouth. Robert once appeared on a stamp issued by the island of St. Vincent as part of a series commemorating great circus performers. They have been married for 13 years and live in Lenexa.
Read the full Q&A; with The Wicked Liars.
A few years ago, Robert and Valerie got a call from the Kansas City T-Bones asking if there were any world records they could break for a World Record Day promotion at the ballpark. Robert thought about it and decided he could maybe set the fire eating record, extinguishing more torches in his mouth in one minute than any man in recorded history ever had.
The record of 36 had been set in Finland. It was done indoors, in a controlled setting, using small torches. Robert was going to attempt the feat between innings on the baseball field using his big torches. They had planned on 15 minutes of preparation time to let the torches dry a bit so they wouldn't be dripping with fuel. Instead, Robert says, he was told "go" after the torches had been drying for only two minutes.
In 60 seconds he extinguished 42 of the dripping torches in his mouth, emerging with chemical burns in his mouth and eye, first-degree burns in his nasal cavity from fumes that had built up and ignited early on in the attempt, a lung infection, and glory.
"I don't know if I would want to do it again," he says. "I would have to do it on 'The Tonight Show' or something."
Robert describes swallowing a sword like this: "When you swallow a sword it goes down your esophagus and into your stomach. There's no rib cage there, so sometimes you'll bump your heart with the sword blade. It'll rub up against it and it feels really bizarre. It hurts sometimes if you do it wrong. I don't do that very often, fortunately, but it's a very freaky feeling."
¢ ¢ ¢
Flying Debris is Richard Holmgren. He has a routine in which he juggles two machetes and a Twinkie and eats the Twinkie (not the machetes). He performs fire breathing tricks and juggles children. His dad always asks him to balance a wheelbarrow on his head to impress his dad's friends. He's from Salina.
Read the full Q&A; with Flying Debris.
Holmgren recalled learning how to catch a bowling ball on his head. Nothing goes right the first time.
Well, first of all, you gotta think of something unique, something that people are gonna want to see. With the bowling ball, it's kind of hard to start off, because you're gonna get yourself knocked out a few times. I've had a black eye from it before.
In the right conditions, I'll do it in a straitjacket, where I'll put a straitjacket on and I'll be basically tied up, no use of my hands at all, and I put the bowling ball on my foot and kick it into the air. It's all in the give. You gotta bring your head down at the same time the bowling ball's coming down or else you're gonna go down.
When I first started learning that trick, my family came home, caught me with a big ol' pad duct-taped to the side of my head. To my amazement, they didn't even flinch. They didn't ask, "What are you doing?" They had come home and seen me enough times trying different crazy stuff and they knew right away I was just practicing some other new stunt.
So I got good at that, and then I worked my way down to a stocking cap and then to where I could actually land it on my head. Just like any type of trick you're learning, you start off easy and work your way up to the hard stuff.
: I was doing a college show once. Matter of fact, it was the first time I'd ever tried to catch the bowling ball on my face in a straitjacket in public. I was pretty confident that I would nail it. I felt good about it, that I wasn't gonna have any problems.
Of course, just like anything, the first time you try it in front of an audience:you could try it a thousand times at home, just like you seen the Olympics last night, where the girl gymnasts, who had done the routines they were doing a thousand times, and then they have that "oops" and fall. How many times has she done that just spotless until the pressure was on?
Anyway, I got my straitjacket on and I got everything ready, had a volunteer come up and put the bowling ball on my foot and I was ready to kick it to my head, and I'll be darned if I didn't bend down just a little too fast, and I caught the bowling ball in the eye, basically, as it was coming up. The bowling ball, of course, fell to the ground.
Didn't show it then, but the next day I had a good black eye. Luckily, I didn't slit my skull open there and bleed all over the place. That wouldn't have been good.
¢ ¢ ¢
Boom! is a five-person band. They march. They sing. They wear weird costumes. Their shtick is that they're sibling orphans-Lily, Neil, Boris, Peter and Paul-separated at birth and reunited after growing up all around the world. The instruments are ukulele, clarinet, bass drum, trombone, melodica, saxophone and accordion. They were assembled by Stephanie Roberts, who teaches physical theater at UMKC. They're from Kansas City, Mo.
Last Sunday, Boom! played The Brick in Kansas City, and for the first time since the band formed in May, the crowd seemed like they just didn't get it. They were one of five bands and were preceded by a guy who played ambient guitar riffs nonstop for about 25 minutes.
"It was real drony stuff," recalls Peter Lawless, the one who plays melodica, saxophone and accordion. "And then all of a sudden we come out and march through the crowd up onto the stage."
And there was a weird tenseness. "I felt that kind of energy from the audience, like, 'What in the hell is this?'" Roberts says. Lawless "has no shirt on and a sarong and tattoos on his face, and I'm in polyester '70s zip-up hot pants and boots. Peter and Paul are identical Canadian twins and they look ridiculous. Boris is in a trenchcoat and glasses. When we start doing our intros and our instrumentals, then people start clapping and laughing. And then we have 'em." »
More like this story on Lawrence.com