Name: Jared Konecny
Age: 20
Sign: Gemini
Hometown: Elkhart, IN
Time in Lawrence: Over a year
Occupation: Casbah Market patty wrangler
What were you doing when scouted: Wrangling some patties at work.
Favorite stores: Magic Carpet Traveler, ATC, The Casbah Market, and Urban Outfitters.
How would you describe your style: Post-modern 80s punk band meets Michael Jackson.
Where do you get your hair cut: Andiy at Static cuts it.
Photo Gallery
Style Scout: Jared Konecny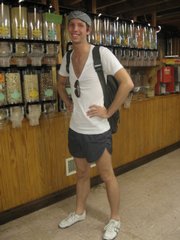 Favorite trends: Really chic jewelry-- long necklaces and big rings for girls. For guys, I like short shorts, and long hair pulled back in a half-ponytail, David Beckham style. I like the really bookish/librarian look for guys, like v-neck sweaters and collared shirts.
Least favorite trends: Guys that wear necklaces, neon colors, cargo shorts, and huge flannel shirts.
Tattoos/piercings: I want to get a tattoo of the outline of Indiana on my arm.
Favorite coffee shop: I don't drink much coffee, but I really like going to House of Cha-- they have the best bubble tea.
Favorite hang-outs: I hang out at my cousin Cassy's place above the Casbah, and occasionally I go to NEON.
What would you like to see more of in Lawrence: I would like to see more roundabouts....many, many more roundabouts. I also would like to see more bike lanes. I'm all about traffic issues today.
What would you like to see less of: Lack of deoderant.
Who are your fashion influences: Actually, I try and take Marc Jacobs' stuff and make it normal. I also really like European fashions for men.
Tell us a secret: I organize my CD collection alphabetically and chronologically. Same with my life.