"And so, we say to all who'll listen: Look up, marvel at the ephemeral beauty, and live life with your head in the clouds."
-from The Manifesto of the Cloud Appreciation Society
In 2004, a man from London named Gavin Pretor-Pinney started a group called The Cloud Appreciation Society, a project that was kind of silly and life-affirming in its exaltation of something so commonplace. He started a website and ordered membership badges, and later wrote about the history that ensued:
"People sent in their cloud photographs, which I put up on the gallery pages for others to look at. The early trickle of submissions soon swelled to a torrent. Stunning images were arriving of rare and beautiful formations: lenticularis wave-clouds over the peaks of the Swiss alps, rippled Cirrocumulus layers in the warm hues of the sunrise, Cumulus clouds shaped like elephants, cats, Albert Einstein and Bob Marley.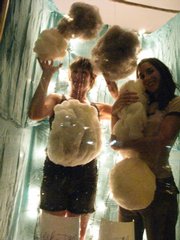 ":The love of clouds seemed to transcend national and cultural boundaries and people joined from all across Europe, from Australia and New Zealand, from Africa, America and Iraq. By the end of the first year, we had 1,800 members, in 25 countries - all united by nothing more than an appreciation of the celestial mists."
Some four years later, in Lawrence, artist Natalie Anne Dye, certified Cloud Appreciation Society member #10042, was having a conversation with muralist Dave Loewenstein. "If you could have any kind of art show, what would it be?" Loewenstein asked.
The sun, the moon and the stars may clog the annals of the arts as clouds get slighted, but not by Dye. She had been enamored with clouds for a while as part of a broader fascination in the overlooked and the mundane (a word she probably wouldn't use in connection with clouds).
Past Event
Thursday, August 28, 2008, 7:30 p.m.
Lawrence Percolator, In the alley behind the Lawrence Arts Center, Lawrence
All ages / Free
In January, she'd had a show at the Bourgeois Pig called "Remembered Stars," featuring pocket-sized pictures of everyday scenes that she described as "accumulated fragments of dream moments, ambiguous casual magic, and hushed narratives." And clouds. She had even used graffiti to take her ambiguous cloud message to the streets. "I started doing that a couple of years ago," she says with a laugh. "There are clouds with tails around this city."
So, naturally, she and Heidi Zeller, a board member of the Lawrence Percolator, started planning a cloud-themed exhibit called "Clouds Are Easy to Love" (open Saturdays and Sundays through Sept. 28). Judging by the number of local artists who were eager to submit work, it became obvious that, like Pretor-Pinney, they had tapped into a subject that ran deep in people's hearts.
Past Event
Thursday, September 18, 2008, 7 p.m.
Lawrence Percolator, In the alley behind the Lawrence Arts Center, Lawrence
All ages / Free
"Set against that multicolored sky," muses Justin Marable, who submitted a screen-printed piece called "Hope on the Horizon" that he'd made for a show in Greensburg, "there's so much dimension and so much depth that can be probed when looking at those clouds. It really gives the sense of the massiveness of the world and the height of the sky. It makes you feel real small."
Ailecia Ruscin (who takes photos for lawrence.com) took some lights, a picture of a cloud, and a wooden box and made "Cloud-in-a-Box." Anne Bruce strung lightweight sheets of white fabric from the ceiling and poured sugar and flour into them. K.T. Walsh arranged a collection of cloudlike objects on the roof. Loewenstein spray-painted animal-shaped clouds against a blue sky onto the sidewalk out front. People who come to the exhibit are encouraged to bring their own "cloud-inspired-what-have-you" on 4x6 cards, which are pinned to the ceiling to form an eclectic sky.
This organic mix of stuff adds up to something that's fast and fiercely energetic, and about as far as you get from the type of cold sterility that the percolators of the Percolator profess to dread. A nonprofit project overseen by the Lawrence Corporation for the Visual Arts, the gallery has been open in the alley behind the Lawrence Arts Center for about five months.
Clouds by Laurie L. G. Troyani
Read this essay on one fourth-grader's conscientious objection to learning scientific cloud names.
"It's not a traditional gallery space," Zeller says. "Our focus is not on representing artists and selling work. It's a really community-based space."
Sisters Chantel C. Guidry and Laurie L.G. Troyani created a mock science fair exhibit-inspired by Troyani's refusal in fourth grade to memorize the scientific names of clouds-that includes cloud photos by Guidry and Troyani's theories on how clouds are made: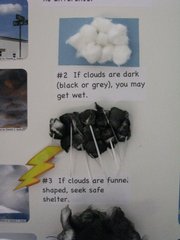 #1 The oldest way is by Cloud People. All humans have the ability to breathe out small clouds (we have all seen this when it is very cold outside), but Cloud People can blow out large, sky-filling clouds.
#2 During the Industrial Revolution, a new form of cloud production was invented: the Cloud Factory. What would take Cloud People days and days of intensive labor to accomplish can be done by a cloud factory in a fraction of the time.
"I knew already from other events that Natalie Dye is really enamored with clouds, and I always kind of thought, 'Well, that's interesting,'" Guidry says. "When I heard about the project and started thinking, 'I'm going to take photographs of clouds,' it was amazing how I really started noticing clouds. I still do notice clouds even though I'm not actively taking photos of them for this project anymore."
John Reeves carved clouds out of the pages of "Discovering the Weather," an old hardbound book he found at the Dusty Bookshelf for $4. Reeves was instrumental in the development of what may go down in history as the Lawrence cloud frenzy. It was he who spotted a copy of Pretor-Pinney's book "The Cloudspotter's Guide" at The Raven. He gave Dye his copy before he had a chance to read it, and later bought a few more copies to spread around town. He explains that the fascination with clouds isn't about the clouds; it's about the fascination itself.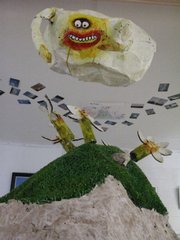 "It's to build enthusiasm for some pretty mundane stuff," he says. "Which I really appreciate quite a bit, maybe more than the book."
In other words, if you can become fascinated by clouds, you may realize that there are all sorts of things to get fascinated by. As stated in The Manifesto of the Cloud Appreciation Society (found in the copy of "The Cloudspotter's Guide" that Dye enthusiastically reserved for lawrence.com at the library): "We believe that clouds are for dreamers and their contemplation benefits the soul."
Dye says, "Schoolkids always get in trouble for 'having your head in the clouds.' Clouds are associated with daydreaming. I don't think it is a bad thing." »