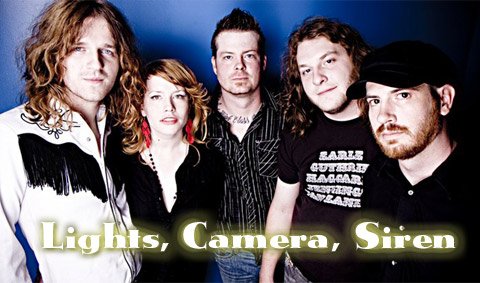 Bands are a lot like eggs-they require an attentive incubation period before hatching. Singer and pianist Anna Cole brooded over multiple incarnations of the Kansas City group Anvil Chorus before transitioning to Lights & Siren. A few lineup changes later, the band is off and running as a hard-rocking quintet that's intently more upbeat and showy than Cole's former projects. The additions of guitarist Tim Braun and bassist Jordan Lebrecht brought two more vocalists into the band, allowing for more developed harmonies and increased testosterone levels. The group's newfound chemistry resonates proudly on its forthcoming album, "Our Hands Make Waves." Cole brought five tracks with her as she hopped in a borrowed Honda and crossed the I-70 divide to our podcast studio.
Podcast episode
Kansas City's Lights & Siren preps debut album
No-fi highlights from the podcast
lawrence.com: I caught one of your shows a couple weeks back. It was cool, it was exciting, it was fresh : there were some new faces in the band.
Cole: Yeah, Tim Braun is now playing guitar with us and Jordan Lebrecht is playing bass and singing. They both used to be in a band called the Supernauts. I'm really excited to be playing with them.
What happened with the Supernauts?
I think they're going to have a last show or something like that in the fall, but I think it's pretty much done.
Album Mp3s

Our Hands Make Waves
You own them now.
Exactly (giggling). Not at all.
Tell us about the transition away from your old band Anvil Chorus.
Past Event
Thursday, August 28, 2008, 9 p.m.
Jackpot Music Hall, 943 Mass., Lawrence
18+ / $5 - $7
It's definitely a different band than Anvil Chorus; it's more rocking. There are some similarities-I'm the singer-but that's about it : I loved playing in Anvil Chorus and I loved the music, but my approach to writing changed. I was petty unhappy personally when I was in Anvil Chorus. My parents died and there were lots of family issues. It was just sort of sad, dark music. I wasn't feeling that way anymore, so I wasn't writing that way anymore.
Do you typically allow your everyday feelings to creep into your songwriting that much?
Yeah. To me, writing and playing music is cathartic and very much necessary. But there's one song on the new album called "Yeah Yeah Hell Yeah" that's just a fun song : I wanted to write more upbeat stuff and work with more upbeat people, so I did.
What are some things that you get to do with this band that you've always wanted to do?
Um, standing up. I know that sounds so simple, but in my old band I sat down and played the keys. I'm actually probably going to stop playing the keys on most songs and just be the lead singer.
You're going to do the microphone twirling and scissor kicking?
Yeah, scissor kicks-absolutely : No, not so much. There's just more freedom to move around the stage and interact and actually see my bandmates.
Crowd surf, mosh, circle pit...
We're a metal band, actually. We're going to wear masks like Gwar.
Buckets?
There may be a use for buckets. OK, we're not a metal band at all.
I'm sensing that the song "Yeah Yeah Hell Yeah" has a bit of story behind it.
It's a party song about enjoyed yourself. We wrote it in like 10 minutes, which makes it awesome. It was perfect when we wrote it, and a lot of songs don't come about that way. I got this text from a friend of mine that just said, "Yeah yeah hell yeah." I texted him back like, "About what?" He's like, "Life!" Just the cadence of the words themselves needed to be in a song. It's a complete departure from what I've done in the past.
It's also going to make for a great ringtone.
Um, yeah, it's all about ringtones (note extreme sarcasm).
So what are your plans for pulling together the rest of this album?
Dave Gaume, who recorded us at Black Lodge, is mixing it, and basically he's been on tour with The Republic Tigers. I want him to do it, but it takes time to get it right.
What are you going to do the rest of the year?
We're writing quite a bit, because these songs were written pre-Tim and Jordan. We're doing Midwest weekend stuff, and then it will get cold and we'll write and probably record a bit more. »