Age: 30
Sign: Sagittarius
Hometown: Indianapolis
Time in lawrence: 12 years
Occupation: Liberty Hall bartender/concessionaire, musician
What were you doing when scouted? Working, I guess.
Favorite stores? Mass. Street Music, Jensen Liquor, The Casbah Market, Liberty Hall.
How would you describe your style? Rock and roll.
Where do you get your hair cut? I haven't gotten my hair cut anywhere but my house in years. I've been growing it out since 1998.
Photo Gallery
Style Scout: James Sizelove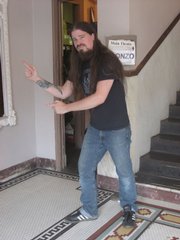 Favorite trends? Tattoos and multiple ear piercings, and band T-shirts.
Least favorite trends? Pink polo shirts with the collar popped, and not dressing for the weather (ie: short skirts and heels in January).
Tattoos/piercings? I have a statue tattooed by Carlos at Big Daddy Cadillac's and my ears are pierced.
Favorite coffee shop: I would say La Prima Tazza, mainly because they have the best baristas.
Favorite bar? The Replay, because they give a lot of exposure and support to bands from out of town that are just starting out. They give them the chance to be heard and really support touring acts.
What would you like to see more of in Lawrence? I really miss Campus Hideaway, the Korean cafe, and I would like to see more specific ethnic restaurants.
What would you like to see less of? West Lawrence. I also would like to see less sports fanatics during football season that wander across 9th Street with their beers and hold up traffic.
Who are your fashion influences? Godflesh, Meshuggah, Slowdrive, and Han Solo.
What's the best show you've seen at Liberty Hall? Quicksand, mainly because they only put out two records and weren't together long. Seeing them here was tremendous, especially because we don't get a lot of heavy music here.
Tell us a secret: Something happens to me every time there's a full moon-see "Teen Wolf" for an explanation.