Lisa Fisher
Age: 26
Sign: Aries
Hometown: Lawrence
Occupation: student, owner of VintageDress
What were you doing when scouted? Hanging out with friends at the Bourgeois Pig.
Favorite stores? I definitely help fund the Goodwill. I also like Wild Man Vintage, ATC, Liberty Hall, Milton's, Sylas & Maddy's, and Zen Zero.
How would you describe your style? Vintage with a mix of modern.
Where do you get your hair cut? I haven't cut my hair in over two years, but the last time I did, I went to Hair Expert Design Team because my friend worked there.
Photo Gallery
Style Scout: Lisa Fisher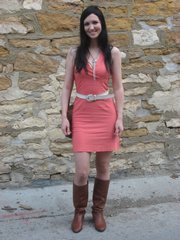 Favorite trends: I love boots and I'm really into accessories, because details make the outfit. I rarely wear anything but dresses, and I've been into wearing them with high-waisted belts. In terms of trends, I think loafers are going to be big this fall.
Least favorite trends? I would say my least favorite fashion trend is when people are not genuine or true to themselves. I think people should have more of a philosophy of wearing what makes you happy, despite what people think.
Favorite coffee shop? I don't drink coffee. I do like tea, though. I also like getting cream sodas at Henry's with five or six flavor shots (vanilla, hazelnut, coconut, strawberry, and peach). It is so good.
Favorite bar? I mostly go to the Replay a lot, just to be at the Replay. I also like going to Gold Label Soul at the Tap Room.
What would you like to see more of in Lawrence? More diversity/ethnicity. We're not as diverse as we'd like to think we are. I'd like to see more acceptance, less judgment of different religions, beliefs, and backgrounds.
What would you like to see less of? I'd like to see less poverty and less homelessness. And frat boys.
Who are your fashion influences: I really like Brigitte Bardot, she is something else. I think Audrey Hepburn did it well, I liked some of Marilyn Monroe's stuff. I like the old-school folks.
People say I look like: I dyed my hair in December and people usually say I look like someone famous whenever I dye my hair a new color. Lately I've been getting a lot of Elvira, Cher, Vampira, and the Kardashian sisters.
Tell us a secret: I spent most of my day playing The Sims 2 on my computer.
More like this story on Lawrence.com