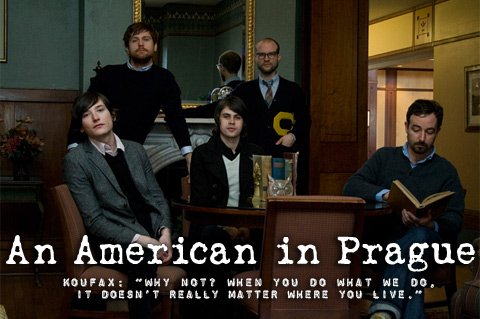 "Co Czech ti Muzikant."
The phrase is a popular one in Prague, explains Robert Suchan.
"The Czech music scene is not as hip as a city like Berlin. But they've always been a musical people. In fact, they have a saying, 'Co Czech ti Muzikant,' which means 'Every Czech a musician.'"
That's good news for Suchan, the founder and lone constant member of indie-pop act Koufax. The Lawrence songwriter has spent the last handful of years living off and on in the Czech Republic's capital city. The Eastern European influence crops up on the band's soon-to-be released fifth record, "Strugglers."
Thus Koufax may be the only band on MySpace that lists its hometown as "Lawrence, KS/Praha, CZ."
"Living there is not as exotic or risky as some people might think," Suchan says.
"My father is Czech, and he and his brother have an apartment building there. ... It was just really cheap to live there. It's a beautiful city, I like the people, I like the food and the beer. Why not? When you do what we do, it doesn't really matter where you live."
Album Mp3s

Strugglers
Suchan keeps a practice space in the industrial part of town, which he shares with metal bands, disco DJs and garage rock acts. His "practices" usually consist of himself hammering out ideas on piano or guitar. He says the city's inspiration usually seeps in more lyrically than musically.
"Being in Prague you're able to have a different perspective. Like the Czechs have a really good dark sense of humor. I tried to incorporate that rather than be blatantly political about things or give an obvious social commentary," Suchan says.
Koufax returned stateside to track "Strugglers" at Black Lodge Recording in Eudora. For the album, he employed an all-Lawrence ensemble: John Anderson (drums), Nathan Harold (bass), Dustin Kinsey (synthesizers, guitars, mandolins) and Ryan Lallier (guitar).
But trying to find out who is actually in Koufax is trickier.
"Our lineup is 'whatever it is it is,'" he says.
The latest touring ensemble features none of the Lawrence contingent, instead employing a Kansas City keyboardist and a rhythm section from Columbus, Ohio.
He says, "When you get a new group of guys for everything, it keeps things exciting."
Lured to Lawrence
Suchan and company are currently finishing another cross-country tour - this time in the states - and are driving from Missouri to Ohio for a few stray shows.
The band just dropped off keyboardist Ehren Starks (Architects, The Roseline) in K.C., but not before indulging in some fun.
"We had our little farewell tour party - a 'sober virgin party' - at the Great Wolf Lodge. We got some really dirty looks from the patrons there, like, 'Who are these clowns?' It was like being teenagers again."
Suchan moved from Ohio to Lawrence in 2004, mainly due to his relationship with the city's popular-but-disbanding act The Get Up Kids. Suchan grabbed the orphaned rhythm section of the Kids (brothers Rob and Ryan Pope) before that particular lineup eventually gave way to another.
"Working with Rob is like hanging out with one of your favorite comedians," says Ryan Pope. "You always seem to feel smarter, or at least have learned something new when you're with him. He is a witty guy."
Such wit may be lost in translation when it comes to the band's name. Suchan says there are few people in Europe who have any idea his group is named after pitcher Sandy Koufax, the dominating Dodgers left-hander of the 1950s and '60s. Actually, he rarely comes across anyone in America who knows the name, either.
"I'm not a fan of baseball," Suchan recalls. "I was living in New York at the time (the group was forming), and some guy said, 'You should call the band Koufax.' I just liked the way the name was spelled and looked and sounded.
"So far the Koufax family estate hasn't tried to sue us to my knowledge."
Tapping into the zeitgeist
Suchan claims the idea of being a full-time musician in a band has never thrilled him. But somehow it became a job.
"For me it was always a means of trouble," he says. "It's easy to get mixed up in a web of record labels or publicists or the game of paying attention to Soundscan. ... I never wanted to do it as my source of income. It was something I wanted to do for fun."
Currently, Suchan splits his career between the band and doing accounting for merchandise sold by celebrities - everyone from Tim McGraw to Stevie Wonder to Larry the Cable Guy.
He only resides in Prague for about four months of the year, and the rest is spent in the states touring with Koufax or juggling numbers at his accounting gig. It was actually the domestic economy that factored heavily into calling the new album "Strugglers."
"That was me trying to get into the zeitgeist of the now. We're in this recession, the Bill of Rights is dwindling away, privacy rights are dwindling away. The gist of the record is that we're all in the struggle," Suchan explains.
"You can take it either really seriously where you get to this point of ultimate despair, or you can poke fun at it. That again was me trying to tap into that Czech sense of humor. The Germans called them the 'laughing beasts' during World War II because they were always in the pub having a pint, laughing, 'Oh, it's some more (expletive) invaders.' It was their nature to laugh at them."