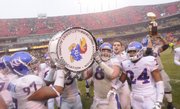 HEADS F*CKING RIPPED OFF
In the latest skirmish of their storied Border War—ahem, Border Showdown—KU's football team defeated MU 40-37 on Saturday at Arrowhead Stadium in Kansas City. The Jayhawks entered the game riddled with injuries and as 16-point underdogs, but took a commanding lead into the second half. The game ended in a flurry of scoring by both teams, with KU ultimately scoring the last touchdown, and then partially blocking MU's attempt to tie the game with a field goal as time ran out. Missouri will still play in the Big 12 Championship game, however, and Kansas will be playing in a yet-to-be-determined bowl game.*…As punishment for their embarrassing loss, the Missouri team will be forced to watch all 138 minutes of Ang Lee's civil war epic, "Ride with the Devil."
SELF PITY
KU's men's basketball lost their first game of the year to Syracuse 89-81 in overtime.  The loss was reminiscent of KU's loss to Syracuse in the 2003 NCAA championship game, in which the Jayhawks hit very few free throws. The loss leaves the Jayhawks at 4-1. Meanwhile the KU women's basketball team beat New Orleans, remaining undefeated through their first four games.*...To try and replicate the success of the women's team, men's coach Bill Self has ordered all of his players to get breast implants.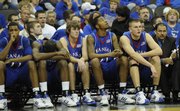 BLACK AND BLUE FRIDAY
A 34-year-old Wal-Mart employee was trampled to death by a throng of shoppers on Friday at the Long Island store where he worked. The crowd had gathered early in the morning to take advantage of "Black Friday" discounts and stampeded over Jdimytai Damour as he opened the doors.*…The scene was even more gruesome at Sam's Club, where employees were trampled in bulk.
GREAT DEPRESSION II: DEPRESS HARDER
The nonpartisan National Bureau of Economic Research declared this week the United States economy was officially in recession. The independent group—which has historically been the accepted arbiter of declaring recessions—cited slower production, stagnant wages and hundreds of thousands of lost jobs since December of 2007.*...When reached for comment about the academic declaration of recession, a woman who was evicted from her house after losing her job and has to rely on on food stamps to feed her children said, "Durrrrrr."
INDIAN BUMMER
The city of Mumbai, India was rocked last week by the deaths of at least 183 people in a series of coordinated terrorist attacks. Teams of gunmen swept through the city in a 60-hour spree of shootings and bombings. The origins of the terrorists are still unknown, but they are suspected of having ties to Pakistani militants.*…Americans, unified in their grief and horror, stood together as one people to condemn the senseless interruption of their Thanksgiving marathon of "To Catch A Predator" on MSNBC just because some brown people killed some other brown people in who cares where.
THE RAPED CRUSADER
On the eve of his 70th birthday, DC Comics has seemingly decided to kill Batman. Last week saw the culmination of a storyline in the comics in which Bruce Wayne/Batman was apparently killed in a helicopter explosion, but DC has been tightlipped about the exact details of the death and the future of the character.*…Speculation has swirled around a brand new villain being the culprit—a dangerously insane megalomaniac known only as "Sasha Fierce." She is described as having a superpowered ass and being prone to annoyance if you call her Beyonce.
BITCHIN' CABINET: THE TRANSITIONING
Barack Obama named Hillary Clinton Secretary of State on Monday and also announced that Defense Secretary Robert Gates—a Bush appointee—would remain at the Pentagon at least temporarily. The announcement of Clinton came after protracted negotiations with former President Bill Clinton, who has agreed to curtail his business dealings and release a list of donors to his presidential library.*…Said one Democratic strategist on the Clinton appointment, "It's like the old saying goes, 'Keep your friends close and your enemies in a job that requires them to be out of the country most of the time.'"
IMMACULATE CONTRACEPTION
The Planned Parenthood of Indiana is offering gift certificates for health care and contraception this holiday season. The network of 35 clinics across the state announced it is offering holiday vouchers for basic health care services "or the recipient's choice of birth control method."*…Planned Parenthood is starting a gift drive in which donors can mail contraception vouchers to Phill Kline, because "he needs to stop breeding."