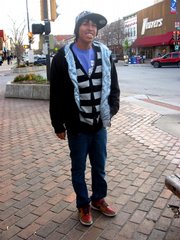 Name: Alex Carnales
Age: 17
Sign: Gemini
Hometown: Chicago
Time in lawrence: About 5 months
Occupation: Student at Lawrence High
What were you doing when scouted: Just got done buying some earrings at Third Planet.
Favorite places: The Granada, Third Planet, Creation Station, Urban Outfitters, and Pizza Hut...mainly because my friends work there.
How would you describe your style: Colorful and edgy
Where do you get your hair cut: My friend Courtney's mom cuts it.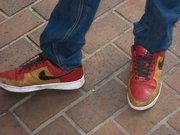 Favorite trends: Band t-shirts, rare sneakers, awesome sweaters with bright colors. For girls, I like tight pants and colorful clothing.
Least favorite trends: Definitely gangster baggy clothes with basketball shirts that go down to their knees, and I don't like when girls wear really skimpy clothes.
Tattoos/piercings: I have a snakebite piercing that my friend pierced for me.
Favorite coffee shop: I don't drink coffee
Favorite hangouts: Mainly I like to party, I like going to shows, and I like playing music with my friends.
What would you like to see more of in lawrence: I think there should be a mall in Lawrence. I'd also like to have more clubs for younger people.
What would you like to see less of: I really like everything downtown, but I guess I'd like to see less trash on the street.
Who are your fashion influences: My sister is a big influences-- she likes to wear really colorful things. I also like the stuff that indie rock bands wear.
People say I look like: Mowgli from the movie 'The Jungle Book'.
Tell us a secret: I'm really really good at tech deck.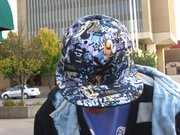 PRICE OF CLOTHING:
shoes: Air Force Ones, from the Nike Store in Chicago, last year for $40
jeans: Empire, from Zumiez, 7-8 months ago for $30
t-shirt: The Moment & Dr. Manhattan band t-shirt, purchased at their show 4 months ago for $15
jacket: from Zumiez, 1 year ago for $50
hat: Logic Clothing, purchased 2 months ago for $15