Name: Kyra Sims
Age: 22
Sign: Leo
Hometown: Germantown, TN
Time in Lawrence: 5 years
Occupation: Student, Jazz Director at KJHK, and Administrative Assistant at the Lawrence Arts Center
What were you doing when scouted: I just finished rehearsing with the KU Wind Ensemble.
Favorite places: Henry's, Borders, Astrokitty, ATC, Thai Siam, and the garden at the KPR building.
How would you describe your style: I secretly want to be Tom Waits
Where do you get your hair cut: The Downtown Barber Shop
Favorite trends: Scarves, definitely. I also really like Chuck Taylors, layering, and fitted jackets for both men and women.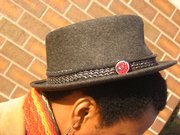 Least favorite trends: Tight pants on guys...it's nice to leave something to the imagination. Also, it bothers me when people don't dress weather appropriate.
Tattoos/piercings: I have my ears pierced, and I recently got my first tattoo. It's a natural horn with garlands around it, and I got it done at Skin Illustrations.
Favorite coffee shop: Henry's, because it's nice and cozy and a lot of people I know hang out there. There's always good conversation.
Favorite bar: I like Harbour Lights, because they have Woodchuck on tap and they have a nice outdoor patio. They also have that pornographic photo hunt game.
What would you like to see more of in Lawrence: I'd like to see more live jazz at bars, and better drivers.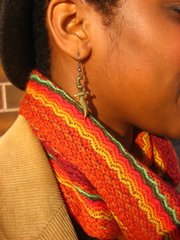 What would you like to see less of: Even though I'm not a Republican, I'd like to see less of a stigma against Republicans and their beliefs. I feel like everyone should be allowed to voice their opinions. I also want to see less fair weather fans for our football team.
Who are your fashion influences: My style is usually influenced by throwing random things together, and if it works ... it works. In terms of influences in general, I would say Bebop Jazz, Charlie Parker, and Dizzy Gillespie. Another big influence is Froydis Ree Wekre.
What was the strangest request on your radio show at KJHK: I do a Jazz in the Morning show, and I have a listener that repeatedly asks if I want to get drinks together after my show.  I always tell him, 'I don't drink before 9am. Sorry.' Other then that, I don't usually get too many weird requests.
Tell us a secret: I'm pretty obsessed with Spongebob Squarepants. I try to watch it every day.
PRICE OF CLOTHING:
shoes: Converse, I can't remember how long I've had them, they were probably $30
jeans: Old Navy, purchased 3 months ago for $20
sweater: Purchased in Italy, last year for 12 Euros
scarf: from the Bolivians that sell stuff on Wescoe Beach, a few weeks ago for $8
skirt: Old Navy sale rack, many years ago for $8
blazer: from the Goodwill, a few months ago for $10
earrings: Creation Station, purchased at the sidewalk sale, $5
hat: ATC, purchased 3-4 years ago for $6