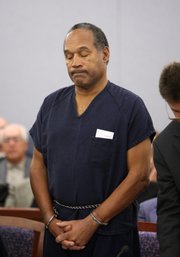 EVERY WHICH WAY BUT JUICE
O.J. Simpson was sentenced last week to 9 to 33 years in prison for robbing two sports memorabilia dealers at gunpoint. The pro-football Hall of Famer, who was acquitted 13 years ago of murdering his ex-wife and her friend, was found guilty by a Las Vegas jury on 10 counts of kidnapping and assault.*…Simpson was surprisingly calm as the sentence was delivered, shrugging his shoulders and saying, "Meh—you can't stab and viciously mutilate 'em all."

PUNCHED IN THE FACEBOOK
An outbreak of the computer virus known as "Koobface" spread through Facebook last week. The virus spreads by sending messages to Facebook friends with subject headers such as "Look you were filmed all naked!" If the recipient clicks on the supplied link, they are taken to a page that looks like YouTube and told to download new software.*…Once the virus is downloaded, it damages your hard drive by playing a constant loop of Jason Mraz's new album until you smash your computer to make it stop.
COCKS NO LONGER BLOCKED
Lawrence City Commissioners unanimously agreed last week that new regulations should be written that would allow city residents to keep chickens on a small-scale basis in the city. Commissioners had previously expressed concern the chickens might pose a health risk.*…Within seconds of the decision, everyone in city hall ironically contracted avian flu and died. 

GREAT DEPRESSION II: DEPRESS HARDER
The Labor Department last week announced the biggest one month increase in unemployment in 34 years, with the U.S. economy shedding 533,000 jobs in November. Amid the already dismal jobless rate, the Big 3 American auto makers pleaded before Congress that if they don't receive a bailout they may collapse by the end of the year. A bailout package seemed imminent as of late Monday.*…Congress was willing to compromise with the auto makers, saying they would provide bridge loans to the manufacturers provided they converted their Hummers and luxury SUVs to run on the blood of the unemployed.
BITCHIN' CABINET: THE TRANSITIONING
Barack Obama further fleshed out his cabinet last week with the nomination of New Mexico Governor Bill Richardson as Commerce Secretary and retired Army General Eric Shinseki as Secretary of Veteran's Affairs. Kansas Governor Kathleen Sebelius was widely considered to be a frontrunner for the departments of Labor, Energy or Education, but withdrew her name from consideration last week. Sebelius said in a statement she would prefer stay on as Kansas Governor in order to steer the state through these difficult economic times.*…Sebelius denied she had withdrawn in order to spare Obama the embarrassment of compromising photos surfacing, rumored to show the governor getting really drunk with Ed Rendell and Janet Napolitano as they recreate the bathtub scene from "The Dreamers."
BAKE MICHIGAN
Michigan became the 13th state to allow the use of medicinal marijuana last week, though the state's law doesn't yet address how patients can obtain it.*…Until the legislation is finalized, Michigan doctors are advising terminally ill patients to legally and safely chase a bottle of pills with a bunch of booze.
BOWL CALL
It was announced last week the KU football team will face the Golden Gophers of Minnesota at the Insight Bowl on Dec. 31 in Tempe, Ariz. Kansas will be appearing in back-to-back bowls for the first time in school history. The game starts at 5 p.m. and will air on the NFL Network.*…The Jayhawks breathed a sigh of relief they didn't draw the dreaded Bronze Beavers of American Samoa, who have repeatedly dominated the Playtex Gentle Glide Tampon Bowl in Nome, Alaska.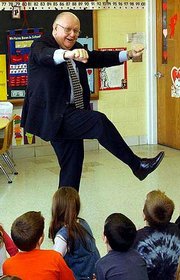 DON'T LET THE DOOR HIT YOU ON THE HEMENWAY OUT
KU Chancellor Robert Hemenway announced this week he will be retiring June 30, 2009. Hemenway, who became Chancellor in 1995, will focus on teaching and writing a book on intercollegiate athletics.*…Hemenway will research his book mostly by hanging out with Mark Mangino at The Pink Flamingo Gentleman's Club and All You Can Eat Buffet.