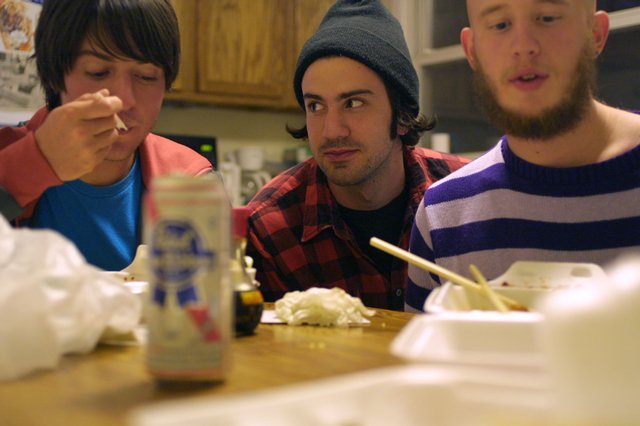 Though Lawrence's The Armory has performed more than 50 shows since banding together in 2005, the group never quite got around to recording a proper LP—until now.
"The New Depression" is hardly a downer of a record despite its doom-ridden moniker. Its ten songs clock in at just less than 25 minutes, but hardly a verse is executed without deliberate intention. One could toss around the usual points of reference—Dinosaur Jr., Pavement, Nirvana, Trail of Dead – but mostly it's the sound of a college-town garage band honing its chops and having a blast.
Armory shows have been few and far between this year due to the absence of drummer Pat Egger, who recently began attending the Rhode Island School of Design. The hiatus allowed other members Thadd Lewis and Tyler Snell to focus on finishing "The New Depression" with help from engineer Steve Squire. They'll celebrate the release of the album and its nifty interchangeable artwork with a December 18 show at The Replay Lounge with support from Columbia's Burger Kingdom.
Podcast episode
Though Lawrence's The Armory has performed more than 50 shows since banding together in 2005, the group never quite got around to recording a proper LP – until now.
lawrence.com: You've been a trio since the inception of the band?
Lewis: We started as a two-piece – it was me playing guitar and Tyler playing drums. It was stressful … If one of you f*ck up, it's obvious. And I kept my guitar pretty clean back then so you could hear all the notes I was missing or hitting.
Snell: So rather than get better, we just got another person.
Lewis: And we got better.
Were you drawn to Lawrence by the booming musical Mecca? Or was it other things?
Snell: I think it was in-state tuition, mostly.
Lewis: I wanted to create some kind of band when I got here, because I knew it would be a small scene and we could be part of it … We spent most of our time getting shows and focusing on playing live, and recording was more of a second idea.
How has the band evolved artistically?
Lewis: We only had two people and I wasn't using any effects, so we had to rely on writing good songs. We wanted substance first and aesthetic second. I think a lot of bands just focus on the aesthetic and they aren't writing about anything and they don't have any clear direction. They're just looking to other bands for cues.
Album Mp3s
New Depression
You were part of a Pavement tribute band?
Snell: It was a one-off show with us and The Dactyls.
Lewis: And then we forgot all the songs afterwards. Hopefully we did a good job … People were dancing.
What else do you guys do besides make music?
Snell: Work, sleep…
Lewis: Paint, write, read and take care of my child. She was born a couple months ago.
So basically this CD is a fundraiser?
Lewis: Tyler put most of his money into it, luckily.
Snell: Save the children. Buy an album and help feed Thad's baby.
There seems to be a high-school theme running throughout the record (i.e. the song "Teen Beat"). It's kind of a concept record, is it not?
Lewis: Yes, the concept is to try to get people to finish it.
Where did the title ("The New Depression") come from?
Lewis: It's multi-layered. Most of the songs are negative. Some of the songs are about depression actually.
How about the song title "I Love My Gun"?
Lewis: Barack Obama made a reference to how people from the Midwest cling to their guns and their religion, so I kind of owned it.
Is the band going to be able to continue with your drummer in Rhode Island?
Snell: Right now we're really just embroiled in getting these CDs out. Once we crawl back out of that fiasco and put this whole album behind us, I think we can figure out what's next.
Lewis: I have some lo-fi recordings that I think I'm going to release for free at Love Garden when I have enough of my friends tell me they don't suck.