Tuesday, December 9, 2008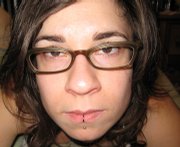 Leslie Kay, screen printer, rock show booker, junk refurbisher, cat whisperer
The holiday shopping season is upon us, when we celebrate the virgin birth of Sam Walton. How do you plan to observe this holiest of holies for the American and Chinese economies?
"Probably by eating some Chinese food and going to the movies like all the rest of the Jews. Hmmm—does that help out the Chinese economy?"
Where are the best places to shop here in Lawrence for your friends, family and the person you're having an affair with?
"My first attempt is usually the Antique Mall, although it requires that you start your shopping well in advance to avoid having to settle for weird stuff like a smelly quilt, a Pablo Cruise 8-track, or an old washboard. Washboards are really hard to wrap, anyway.
The Toy Store on Mass. Street is also really cool, and it's totally local and independent."
Tips for not getting trampled or mauled by bargain-hunting jackals?
"I tend to avoid the big name corporate chains in general, but especially this time of year. If the jackals aren't bad enough, the onslaught of Christmas music seals the deal for me.
And if you're not worried about where your money is going anyway, stay inside next to your glowing fireplace and shop on eBay or something."
For those of us having to sell bone marrow in order to survive in this awesome economy, how do you stretch your gift-buying dollar?
"Most things I buy anytime of year are secondhand, and the wheeling and dealing of holiday time really helps remind me why. Used stuff is cheaper and has probably earned a loving home, and old things tend to be better quality anyway. Handmade stuff is always a good choice, too, as it's a lot more personal than something that a zillion other people around the country have a replica of. If you're crafty, you can use your own love and sweat free of charge. If you'd rather buy stuff off another hardworking civilian, do a little research and get in touch with your local art and boutique scene. I also think that homemade eats and homegrown plants make great gifts."
What's LOLA? And if I shop there, aren't I just depriving Super Target—and therefore the Malaysian children they employ—of my business? Why do you hate Malaysian children?
"LOLA is a group of crafty Lawrence ladies that gets together a few times a year to sell handmade wares in a local boutique-style setting. We all make different types of stuff, ranging from jewelry, tee shirts, greeting cards, baby stuff, pet stuff, paintings, knittings, and soaps. And maybe we are being a little unfair to the marketing giants, as we offer goods priced for the actual labor and materials, without the extra fees for shameless profit margins and advertising meant to make you feel lacking and impotent. So maybe we aren't for you."
You make stuff for babies with the word "f*cking" on it. What else do you make, and will any of that stuff also get someone in trouble with Child Welfare Services?
"I like drawing and I like printing, so I do a lot of that. For the LOLA sales, I try to make affordable and functional stuff that's good for gifts. I make little drawings and then turn them into prints, then they become greeting cards or bric-a-brac or little patches that my sweat shop of hard-working Malaysian children sews onto all kinds of stuff. And for the record, my kids get warm beds and three square meals, so I should be clear with Child Services on that front."