Monday, December 15, 2008
KICK OUT THE JAMS
After 5 years of calling Lawrence its home, the Wakarusa Music and Camping Festival will be moving to Arkansas next year. Wakarusa organizer and Lawrencian Brett Mosiman made the decision in response to an ongoing dispute with the Kansas Department of Wildlife and Parks over licensing fees for the jam band fest.*…Arkansas' most famous son, President Bill Clinton, welcomed the festival and its many topless patrons with open pants.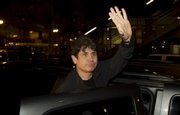 ROD DAMN!
Illinois Governor Rod Blagojevich refused to resign on Monday despite his arrest last week on corruption charges, including the allegation he attempted to sell Barack Obama's vacant Senate seat to the highest bidder. The Illinois Attorney General is asking the state Supreme Court to remove Blagojevich and the state Congress has begun impeachment proceedings. Blagojevich has dug in his heels and hired the same high profile attorney who successfully defended R. Kelly against child pornography charges.*…R. Kelly, contrary to the sentiment most Illinois residents have expressed of the disgraced governor, said he would gladly piss on the governor if he were on fire.
THE HALLS OF POWDER
The office of Governor Kathleen Sebelius was quarantined last week for about two hours after a letter was opened that contained a suspicious powder. The powder was determined not to be dangerous.*…Lieutenant Governor Mark Parkinson later apologized, saying it was just scented powder for his elaborate 18th century merkin wig.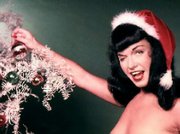 FUNERAL FOR A FETISH
Bettie Page, the 1950s pin-up model whose scandalous photographs helped spark the sexual revolution, died last week of complications from a heart attack. She was 85.*…Page was buried as she lived—surrounded by wood.
GREAT DEPRESSION II: DEPRESS HARDER
A federal bailout for the faltering auto industry was killed last week by Senate Republicans, who refused to support a bill that didn't feature pay cuts for unionized workers. In other disastrous economic news, Wall Street investment manager Bernard Madoff was arrested last week for his orchestration of what federal investigators are calling "the largest Ponzi scheme in history." Madoff is accused of defrauding clients—including Steven Spielberg and several prominent charities—of nearly $50 billion, most of which was lost in the failing stock market.*…Madoff, being a wealthy Wall Street financier, was immediately given billions of dollars by Senate Republicans. Said Sen. David Vitter, "Auto workers, however, shouldn't expect a hand job—I mean hand out! Hand out!" Vitter then paid his prostitute using TARP funds.
GOLDEN SHOWERS OF ADULATION
The Hollywood Foreign Press Association announced the nominees for the Golden Globes Awards last week. "The Curious Case of Benjamin Button," "Doubt," and "Frost/Nixon" led the pack with the most nominations. Heath Ledger was notably given a posthumous Best Supporting Actor nomination for his role as the Joker in "The Dark Knight."*…Keanu Reeves, inspired by Ledger, hopes to earn a nomination next year by dying.
TOKEN INTERNATIONAL MINUTE
The US ambassador to Zimbabwe said last week that the African nation was on the verge of becoming a "failed state," ravaged by government paralysis and a growing cholera epidemic. President Robert Mugabe, who refused to step down despite losing his reelection earlier this year, ignored calls from world leaders to resign. Elsewhere in the world, Greece was consumed by weeklong riots following the fatal police shooting of a 15-year-old boy.*…More importantly in global affairs, that old dude in the bowtie won "Survivor: Gabon."