Monday, December 15, 2008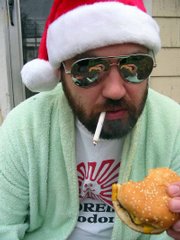 You might know Slick Rhodes as the song-and-dance man from Galveston, TX with a taste for whiskey-soaked women, or you might know him as the protégé of Lawrence musical institution Arthur Dodge who looks uncannily a lot like Arthur Dodge. More than likely, however, you know Slick Rhodes as that guy in the Santa Clause hat who puked milk and cookies all over your shoes at The Eighth Street Taproom. That perennial holiday tradition chunders anew as Slick brings his Christmas jamboree back to Lawrence, offering up his boozy renditions of yuletide standards. This caroler with a checkered past joined us to discuss his latest tour as Santa's little schlepper and how the Christmas spirit literally possesses him as though it were a demon from hell.
Slick Rhodes brings his Holiday Jamboree of Hits to the Eighth Street Taproom on December 18.
Thank you very much for joining us, Mr. Rhodes. Are you sober enough to chat? Need some coffee or blow?
Hey, good to be talking to you. It was kind of a late night, though, you know? We were in Denver last night and Anjelica Huston came down to catch the show. She's a bit of a drinker of course, so we ended up playing ping pong at the club owner's house into the wee hours of the night. He had a table in his basement. I think Huston let me win a few—funny gal, that one. Good hair, too. Bit of a mean drunk. Don't cross her man—don't cross her.
How goes the Christmas tour this year? Run into any of your former band mates from Deep Purple or their wives whom you have banged?
Well, the tour's been alright. We always start the Christmas tour on Nov. 1st. Just as soon as those Halloween masks come off we're hitting the pavement. We always kick it off at Duck's down in Galvy. I'm kind of an institution of sorts down there, you see—a local legend. Tamer of trees and all. Then we head east. We had a 3 day run in Charlotte, couple days off in Florida—good times. My 4th wife, Meredith, lives in Orlando, so we got to catch up a bit. Her current husband works as a dental hygienist for the Orlando Zoo. He was a big help with my teeth and such. My hat really goes off to him. Working with animals and marrying my ex wife and all—hard work, hard work. He's a stand up guy. Carl. I think his name is Carl.
In your travels, have you noticed if this depressed economy has dampened Christmas cheer?
No. No I haven't noticed. I am hungry, though. Could we take a break for a sec? I need to call my secretary.
(Calls secretary)
Okay. Hey, sorry bout that. What was the question? Oh, right—no, no I haven't noticed. But I certainly do dislike the word "damp." Please don't use it in any other sentence around me again. Thanks.
Did you lose any money in the stock market?
Well, I don't really believe in the stock market per se. I have most of my money tied up with Suzy. She stashes it in the bottom drawer of my coffee table. I do have an extensive collection of Hummel figurines, though. They're probably upwards in value of $30,000. Some or them are very rare, you see. Did you know that Hummel made a "Fidel Castro Dancing with a Teddy Bear" figurine? It's true. Very rare.
Has the economy forced you to cut back on expenses, or are prostitutes and liquor recession proof?
Yes, we have had to cut back a bit. Our tour comforts are not quite as lavish as they used to be. Like I said, most of my money is tied up with Suzy—literally. She gives me a little walking around cash for daily spendy things and such. I'd rather not talk about my vices, though. You know, don't want the kids to get the wrong impression. I am a man, of course. I do manly things—really, really manly things. That's all I have to say about that.
Do you think that, now more than ever, people need Slick Rhodes and his festive brand of merrymaking?
Yes.
What's the true spirit of Christmas?
The "true" spirit of Christmas? Well, you can see it all around you, man. It's looking right at you, beaming up from a dirty, slushy puddle. It's looking right through you, deep into the soul, with all its shiny red and greeny things. "You're a child," that's what it's saying. "You're a little baby-man! Just hold me and make me laugh! Make me giggle, do me a dance! That's right, funny man—I said do me a dance! Put a little glitter on it, you know! Put a little elbow grease on that melody! Don't just sing it, man, but sing it! Ooh, and don't kiss that girl! She's trouble! I know her sister! I've met her sister, and just don't do it, man. I know you want to, but don't. Just sing me that Christmas song. Just do that." Spirit of Christmas? Yup.
More like this story on Lawrence.com