Monday, December 15, 2008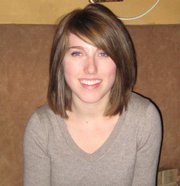 Stephanie Bell, server, student, enjoys Spanish and ambulating
How do you save money?

"I have a mutual fund, which was doing fantastic, but then Ben Bernanke made everything go awry. I set aside cash each paycheck and hide it. Other than under my mattress, I essentially have no money anywhere. I save money by riding my bike everywhere. When the weather gets nasty I take the bus. Working in a restaurant is incredibly helpful because you get free coffee and food—the necessities. Living next to The Merc is also convenient, and I go there frequently. That's not really a saving technique, though. I saw a piece on CNBC about buying store brands, like Kroger brand peanut butter, and how that can save you as much as 50% on the cost of living. Eating at the Star Bar, as opposed to eating at the main Pachamama's restaurant, will also save you money."
What do you splurge on?

"Drinking, The Gap and The Dusty Bookshelf. Produce from The Merc and Ugg Boots are also some extravagances. Eating at Pachamama's, as opposed to eating at Star Bar, is a splurge. I normally like to splurge on Grey Goose vodka, but in these hard economic times, I have switched to Honor vodka. I'm supporting the local economy."