Monday, December 15, 2008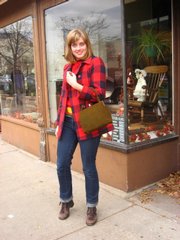 Name: Michaela Boman
Age: I feel like I'm 319/dead.
Sign: Cancer
Hometown: Duluth, MN
Time in Lawrence: 2 years
Occupation: Barista, shopgirl at Strong's Antiques, student at KU
What were you doing when scouted: Walking off french toast with a friend.
Favorite places? Every coffee house in town, Love Garden, and Wild Man Vintage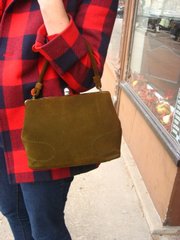 How would you describe your style? A little bit tomboyish and a little bit of my mother's closet.
Where do you get your hair cut? I always wait to get it cut when I go back to Duluth, but I am trying to find someone here in town.
Favorite trends? I like classic pieces that you can dress up or down. I really like tailored pieces in general, and right now I'm into pencil skirts.
Least favorite? I don't like things that are really bulky or frumpy, and I hate bubble shirts. I'm sick of the Northface trend, and when girls wear leggings as pants. I also don't like saggy pants on guys.
Favorite coffee shop? I like different ones for different reasons. I like Aimee's because you can always have a funny conversation. I like going to Henry's mainly for studying, although a lot of times I end up running into people I know and not studying. I've been going to the Pig lately to study as well.
Favorite hangouts? I usually just have small get-togethers with my friends, or end up hanging out at Henry's. If I go out, I usually go out during the week.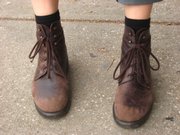 What would you like to see more of in Lawrence? I would like to see more variety of ages, it feels like everything here is too centered around college kids. I'd like to see fun stuff for different age groups ... old people, kids.
What would you like to see less of? People with bad intentions. And less wind!
Who are your fashion influences? My mother when she was younger, and her closet. I never really look at fashion magazines or anything. I pretty much like fashion in the 60s and early 70s, although lately I've been into the 90s look...heroin chic and all of that.
People say I look like: Bridget Fonda, my twin sister, and any celebrity with big eyes.
Tell us a secret: I'm a heartbreaker. Oh, and my best friend when I was 16 was a 28-year-old Air Force X-Ray technician who once x-rayed an official's stomach only to find 17 Barbie Doll heads.  (No joke.)
PRICE OF CLOTHING:
shoes: my mother's, I've had them for 4 years
jeans: Delia's, from the mall, about 1 year ago for $37
shirt: Wild Man Vintage, purchased 6 months ago for $8
sweater: Wild Man Vintage, purchased 1 week ago for $9
jacket: Pendleton, my mom's from the 60s, I've had it for 4 years
purse: Life Stride, purchased at Wildman Vintagem 2 days ago for $12