Friday, December 19, 2008
It wasn't so long ago that putting out a Christmas record was the musical equivalent of getting run over by a reindeer. Sure, Jesus preached mercy—but can you really forgive such epic missteps as "Christmas with the Brady Bunch" and The Jingle Dogs' "Christmas Unleashed"?
Sam Billen and Josh Atkinson had cojones the size of yule logs to even attempt such a feat, but both local musicians came away with albums that won't be roasting on an open fire anytime soon.
FREE ALBUM downloads
Songs for Christmas"9 new tracks by Josh Atkinson available in one convenient iTunes-ready file.Download now!
Merry Christmas"11 new tracks by Sam Billen available in one convenient iTunes-ready file.Download now!
In fact, Billen's "Merry Christmas" and Atkinson's "Songs for Christmas" rank right up there with recent yuletide blessings from Sufjan Stevens and Low. Both albums strip away the cheese in favor of heartfelt versions of Christmas standards (i.e. no "Grandma Got Run Over By A Reindeer" or "What Can You Get a Wookie for Christmas (When He Already Owns a Comb?"). Billen and Atkinson put their own spins on familiar tunes, at times reworking the chords and lyrics to tell a new story.
Both musical merrymakers crawled down the proverbial chimney to share their albums and holiday cheer. No holly jolly elves were harmed in the making of this podcast.
lawrence.com: What is the true meaning of Christmas?
Atkinson: I'm going to go a roundabout way of answering that by talking about what I think Christmas is not. What's up with the Wal-Mart dude dying? Greed frustrates me immensely. In some of these songs, like "God Rest Ye," I changed the lyrics to talk about Christmas greed. For me, it's like Jesus at the temple that's been turned into a marketplace. That's the one time in the New Testament you see Jesus pissed off, but I think righteously pissed off.
Billen: My take is exactly the same. With my music, I really just wanted to bless people—Christian or not Christian … My ultimate hope is just that it inspires people to love and not worry so much about the greed that comes with Christmas now … Not only giving to their families, but giving to people on the street and giving to people that actually need it instead of circulating wealth within wealthy families.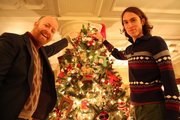 So you're pretty much giving this music away—not seeking to profit Mannheim Steamroller-style.
Billen: I was going to cover some of their songs originally, but I emailed them about it and they said that there was going to be some heavy royalties involved. So I decided against it.
Why did you decide to put out Christmas records?
Atkinson: I'd always loved Christmas music and I always wanted to make a Christmas album. But I only had a four-track recorder, so after I sang and played guitar I was basically out of tracks. It wasn't until last year when I was living in Japan that I bought my first laptop and broke into the world of GarageBand and recorded my first Christmas album. I mailed it back home without letting anyone know … The response was really good, so I thought I would do it again.
Billen: Last year I thought of it like four weeks before Christmas. I started recording it and it turned out really well … I heard back from quite a few of my friends and other random people who said they liked it. This year I decided to bump it up a notch, so I asked friends and family for donations to press an album. Within like three weeks I had raised $1600 so I was able to pay for 1,000 CDs and send some to Hong Kong and Japan.
Podcast episode
An interview with two local musicians—Sam Billen and Josh Atkinson—who've recorded Christmas albums and made them available here for free download.
Seeing as how it's no small task to make a record, there must have been something really magical about Christmas music that moved you.
Atkinson: There's something so magical about the Christmas melodies. Maybe it's because you only hear them once a year and they slip away during the summer. I have so many memories of being in church on Christmas Eve and these cheesy moments of lighting the candles and having these really powerful, minor-chord progressions rip into my soul.
Was it difficult to choose which songs to record?
Atkinson: It was difficult for me to choose, because I love Christmas music but like 75 percent I don't like … Mariah Carey and 'N Sync kind of ruin it for me, just going into the shopping mall and hearing that. I think Sam and I were connecting on the fact that we both felt like, "What's up with all these really awful Christmas songs when (traditional) Christmas music is really so amazing?"
Billen: One response I got to my album was that you can tell that I really like the songs. I'm sure there's emotion there for MercyMe and Mariah Carey, but at the same time they're thinking profit.
What are some of your favorite Christmas memories?
Billen: My least favorite one was when I was about three or four years old and I woke up to find my brother cruising my Big Wheel in circles.
Atkinson: My parents had bought my older brother and I a ping-pong table, and on Christmas Eve we heard my dad downstairs cursing while putting it together. I remember getting out of bed and looking downstairs and seeing this huge ping-pong table and rushing back and telling my brother. But the worst part was waking up the next morning and trying to act surprised. My mom was pissed.
That's what it's all about.
Atkinson: Yeah, it's all about frustration on Christmas morning.
Billen: And presents.