Sunday, December 21, 2008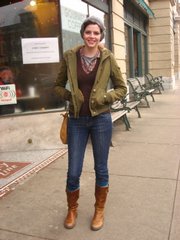 Name: Aimee Howard
Age: 25
Sign: Cancer
Hometown: Warsaw, IN
Time in Lawrence: about 2 1/2 years
Occupation: Metalsmithing Grad student and teacher at KU
What were you doing when scouted: Getting stuff together to apply for residencies.
Favorite places? La Prima Tazza, Henry's, Harbour Lights, Henry T's on Monday nights, the Antique Mall, ATC, and Wonder Fair.
How would you describe your style? Neutral, minimal, and laid back.
Where do you get your hair cut? I usually cut my own hair.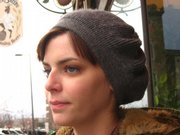 Favorite trends? Scarves, Aviator sunglasses, dark denim, dry shampoo, and boots...of course. For guys, I like the Steve McQueen look.
Least favorite trends? When people wear sunglasses at night or indoors, and Ugg boots and shorts together.
Tattoos/piercings? I got my belly button pierced when I was 18, and I just can't bring myself to take it out for some reason.
Favorite coffee shop? I like Henry's, because the people who work there are really friendly, and it has a nice, social atmosphere. I also like La Prima Tazza because it's a good place to study and get work done.
Favorite bar? I like the Taproom and the Replay for dancing, and Harbour Lights for their drink specials.
What would you like to see more of in Lawrence? I think more art galleries would be great, and more independent boutique clothing stores.
What would you like to see less of in Lawrence? I'd like to see less chain stories downtown, but overall I like the vibe here and I really don't think there's anything else I would change.
Who are your fashion influences? I'm really inspired by the Victorian/romantic era of fashion.
What's in your purse? Colored pencils, a sketchbook, a wallet, 100% natural Chapstick, a new tire warranty for my 1997 Ford Ranger.
Tell us a secret: I love to ride dirt bikes.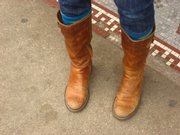 PRICE OF CLOTHING:
shoes: Naturalizer, purchased at Famous Footwear, 2 years ago for $50
jeans: GAP, purchased 1 year ago for $19.99
sweater: from ATC, a few months ago for $7
shirt: H&M, purchased last summer for $12
hat: H&M, purchased last summer for $7
purse: also from H&M, 2 years ago for $30