Sunday, December 21, 2008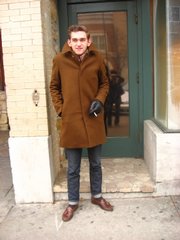 Name: Stuart Perry
Age: 21
Sign: Scorpio
Hometown: Lawrence
Time in Lawrence: Off and on for 21 years
Occupation: Tragedian and newspaper archivist
What were you doing when scouted: Getting coffee and catching up.
Favorite places: The American Legion, The Eldridge Hotel, Au Marche, and Blackbird Trading Post.
How would you describe your style? Archaic. I really like the old gentleman look.
Where do you get your hair cut? The Downtown Barbershop.
Favorite trends? Tweed, leather, grandpa chic, nice hats, and handkerchiefs. I also like nice shoes; I always look at people's shoes.
Least favorite? Lazy style in general. I also don't like regional trends-- when people can't see outside of their state or region and take inspiration from other places.
Favorite coffee shop? I like La Prima Tazza. The general interior is conducive for conversations and I really like the ceiling and the light fixtures.
Favorite bar? I like the Bourgeois Pig because it has a reliable clientele, and you always run in to familiar faces.
What would you like to see more of in Lawrence? Immigrants and diversity. I'd also like to see more Christmas lights, and maybe a good, cheap Italian restaurant or a tapas bar.
What would you like to see less of in Lawrence? Less pavement, more brick.
Who are your fashion influences? Men in suits. I also really like Winston Churchill's style.
People say I look like: Serge Gainsbourg. People also say I look like someone who is too serious for my own good.
Tell us a secret: I pull out my eyebrows incessantly.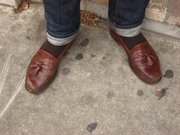 PRICE OF CLOTHING:
shoes: Johnston & Murphy, purchased in Kansas City, 7 months ago for $100
coat: New York ephemera, gratis, about  1 year ago
jeans: inherited, had for about a year
scarf: found in an old closet years ago
gloves: A.P.C, I've had them for about a year
watch: Benrus, purchased 2 years ago for $150