On Thursday nights, in a peculiar phenomenon which might inspire a spit take from ascetic fuddy duddies, Henry's Upstairs transubstantiates from a secular saloon into a slightly sloshed seminary.
Theology on Tap is serving up Bible study anointed with beer, and all are welcome. An effort by Plymouth Congregational Church representatives Valerie Miller-Coleman and Reverend Josh Longbottom, this informal cocktail klatch strives to expand religious discussion from the pew to the bar.
Theology on Tap takes its name and inspiration from similar gatherings organized by Catholic diocese around the country, but invites people of all faiths and denominations to gather round for some spirited talk about the spiritual. The imbibing aspect, while fun, is also keeping in tradition. After all, says Miller-Coleman, "Jesus didn't turn wine into water."
Miller-Coleman and Longbottom joined us to discuss God, government, and Grey Goose.
Podcast episode
On Thursday nights, in a peculiar phenomenon which might inspire a spit take from ascetic fuddy duddies, Henry's Upstairs transubstantiates from a secular saloon into a slightly sloshed seminary. Theology on Tap invites people of all faiths and denominations to gather round for some spirited talk about the spiritual. Hosts ...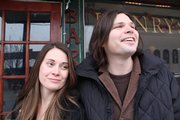 lawrence.com: How did Theology on Tap come about and why is it a good idea to discuss the Bible over booze?
Rev. Josh Longbottom: Valerie made me do it.
Valerie Miller-Coleman: The principle is to take the conversation about theological issues to the place where people have their best conversations. People aren't as intimidated to talk about life and theological issues in the bar with a pitcher of beer in front of them. We can bring a perspective that you might not get from an average pastor in a church. So far, we've had a really good response.
Josh: We have more young adults come in who needed a good way to be able to interact with the Bible on a personal basis without rules being thrown at them. We needed a place for Bible study that wouldn't be lecture-based or rules-based where people would be comfortable and participate.
Valerie: We welcome people struggling with the Christian tradition—or with no tradition—wondering what to do with scripture, which can often times be pretty off-putting and can be read in a way that's hurtful to people. There are people who have experienced nothing but garbage coming from the church, and we have had the benefit of experiencing that this doesn't have to be the case—the Christian faith can actually be revolutionary. It is fundamentally countercultural and it is an incredibly sharp tool for empowering people at the margins. It's often not interpreted that way, especially because it's become the dominant religion in a culture that is heavily capitalist and consumerist and imperial.
Speaking of capitalist and consumerist, it's almost Christmas! How does your more progressive reading of Christianity fit in with this bizarre amalgamation of rampant consumption and ancient pagan holidays that somehow celebrates the birth of Jesus?
Valerie: No kidding—it's really weird. Christmas is probably my least favorite holiday. Not the least because is jam packed full of consumerist garbage. It is basically an icon of what it means to have a religion co-opted by capitalism. It makes me really uncomfortable. I like the pagan elements best. I love evergreen wreaths, because they're a symbol for everlasting life and a pretty serious mythological comment on the world. It says something about hope.
Josh: I love Christmas. My mom gets me awesome things every year. We have the best service of the year at Plymouth, which is all about joy, hope, and peace. Emphasis on the peace. Even if—for some people—it has nothing to do with anything spiritual, they still get to see their families and the possibility for peace is still out there. I would also say that lights on a tree are pretty. I guess I don't like the music.
Hey! What are you talking about? Cheryl Crow just released a Christmas album. Would Christmas return to its fundamental roots if Hasbro would release a Tickle Me Jesus doll?
Valerie: That would be so horrifying and so emblematic of the problem.
Josh: Here's why I wouldn't get behind that—Hasbro would probably make Tickle Me Jesus white.
How do you reconcile religion and politics, and what role do you thing religion will play in the Obama administration?
Valerie: Can I just say Barack Obama is a member of the United Church of Christ, of which Plymouth is also a member? If you love Obama, come to Plymouth.
Josh: I'm a political and spiritual person. My heroes are Jesus, Gandhi, and Dr. King. All of those people are deeply steeped in their faith and made the politic happen. I obviously don't want the United States to be ruled by a religion, but for me politics and religion are the same part of my being.
Valerie: Religion at its best speaks to politics and can offend the establishment. There's a role for it—think of how Lawrence was founded. The Congregationalist abolitionists came out here and founded Plymouth church and established Lawrence as a political stand, through their religious convictions, as a stand against slavery.
Then how do you feel about Rick Warren, who many consider to represent a more regressive approach to civil rights, delivering the invocation at Obama's inauguration?
Josh: He's not the image of the church that I want.
Valerie: I think it's a nod to Obama's promise to be bi-partisan. Rick Warren is a populist preacher, who's moderate on most issues, but on gay marriage he's way out there. Let's just say I'd rather have Rick Warren speaking at Obama's inauguration than Jesse Jackson speaking at McCain's inauguration.
Josh: I was offended I wasn't asked to deliver the invocation.
Bringing it back to Theology on Tap, do you think Fred Phelps would benefit from a stiff drink? At a gay bar?
Valerie: I think a stiff drink would just make him louder.
Josh: Actually, Fred Phelps protested our church. Somebody in our youth group came up with this idea to raise money for gay liberation organizations for every minute he was out there. Every minute he was out there protesting, he was raising money against himself.
That self-abusing behavior just validates my theory he's a closeted S&M freak. Speaking of pariahs, I'm an atheist and think you people are mentally disturbed for believing that a bearded man in Birkenstock sandals lives on a cloud in the sky. Prove me wrong.
Valerie: Prove you wrong? I don't believe that. Done.
Josh: I object to the term "you people." And I don't believe in a beard that lives in the sky.
Okay, I don't actually believe that's how you think, but speaking of atheism, why do you think there's such a stigma attached to atheists? A Scientologist is more likely to become president than an atheist.
Josh: The arrogant vision and mentality Christianity had during the colonial era. There's still a remnant of that vague sense of "We're better than you." I don't like the conflict between atheists and those who are spiritual—to me it's a matter of orientation. I'm oriented to experiencing the world as sacred and experiencing people as sacred. I don't think that makes me better than you because you don't believe in God. I might be better than you if I can beat you at arm wrestling, though.
Valerie: It's cultural dominion. This is what happens when religion becomes imperial. This is what was wrong with Rome during Biblical times, and why the co-opting of religion by a mega-state is a problem. It's very difficult to be a Christian in this context. Atheists are 100% welcome at Theology on Tap. I think an atheist would be a very apt member of a group talking about the nature of God or the question of God.
Do you ever get any pushback from the stuffier members of your congregation about getting sauced and talking about the Bible?
Valerie: No, they love it.
Josh: I was actually a little worried about it, but everyone's fine with it. We're not getting "sauced," exactly—we're done by 7:00.
Does the Jesus juice make for more open discussion?
Valerie: When I was in divinity school, we definitely had our best conversations over a beer after class. Stuff really flows when you mix the social with the serious. We're reclaiming the text for our own lives.
Josh: You stop being afraid of arguing with people and you say what you really think before you've really thought it through. I've had moments there that have genuinely changed me. It can work. It's not anti-Christian to drink a beer and read the Bible.
Favorite drink at Theology on Tap?
Valerie: Just a beer. I like New Belgium.
Josh: Dirty martini, Grey Goose vodka.